Media & Press
Dear Boy Scout Food Drive village, Thank you! With your help, over 120 volunteers gathered together to bring in a record number of non-perishable food items at this Saturday's Boy Scout, Scouting for Food Drive. Every item will support the NFSB Food Pantry and the close to 150 households we support.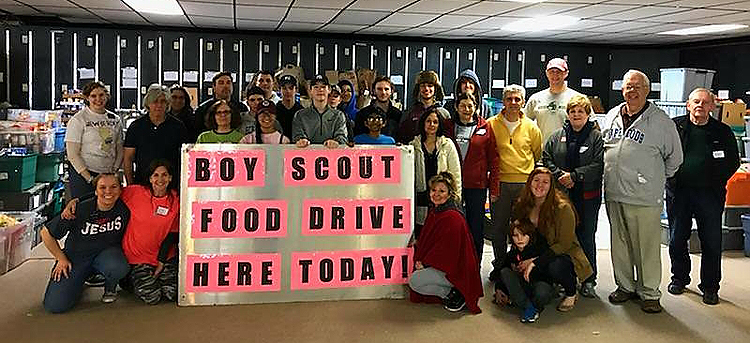 Nutley Boy Scouts Deliver Bags Ahead of Scouting for Food 2018. Nutley Boy Scouts are spending a part of their St. Patrick's Day weekend distributing collection bags to households throughout the township ahead of the annual 'Scouting for Food' drive to benefit Nutley Family Service Bureau's food pantry operation. . The township wide food drive takes place March 24. READ MORE…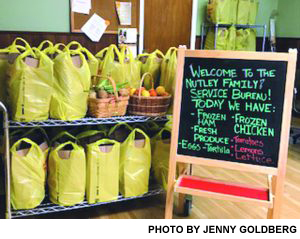 Bureau plans Thanksgiving dinners for those without. Warm hues that dominate the change in colored leaves and a slight drop in temperature mark the start of preparations for the Nutley Family Service Bureau's annual Thanksgiving Day Initiative. The long-established bureau has aided Nutley residents since 1913, and has continued to grow with the community, later morphing into a nonprofit organization. READ MORE…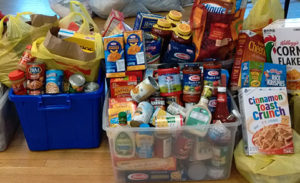 NFSB Gives A Big Shout Out To Spring Garden School! Many thanks for the Spring Garden School PTO's 100th Anniversary Celebration support of the NFSB Food Pantry. It was a wonderful event featuring remembrances across generations of SGS alumnae, current students and their families. In true community spirit, hundreds of nonperishable items were collected, as well as cash donations. Food donations will continue to be accepted at the NFSB annex at 169 Chestnut Street until renovation of the building begins sometime this fall.
Franklin Reformed Church's Carts for Caring supports Nutley Family Service Bureau in the Memorial Day Parade. Franklin Reformed Church members along with Eileen Painter of the Nutley Family Service Bureau pushed shopping carts collecting more than just raindrops on the route. Although the weather dampened the cause they still received some donations. Carts for Caring joined the parade for the first time last year. READ MORE…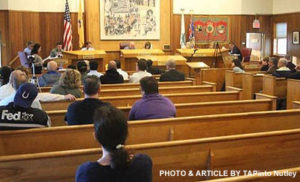 Nutley Zoning Board Approves Family Services Bureau Expansion Application. Eileen Painter, NFSB Director, explained to the Board that the NFSB services a special population with multi-level need."First and foremost, NFSB is a mental-health counseling and social services organization." That tradition was started in 1913 by a group of Nutley women who saw a need that was not being met in the community. The counseling services serve families, groups, and individuals. READ MORE…
Nutley Scouts shatter their food drive record Nutley Boy Scout Troop 147, along with Cub Scout packs 141 and 142, collected 22,425 items during their recent food drive, Pack 141 Chairman Walt Smith reported Monday, April 3. That was a record for the local organizations, which collected 3,405 non-perishable items in 2007, its second year of Scouting for Food and the first year of recording the totals, Smith said. This year's collection jumped 34 percent more than last year's record 17,510 items, he said. "This was an exhausting day, but a great way to teach the Scouts, especially the young Cub Scouts, the meaning of helping others," Smith stated in an email to the Nutley Sun, referring to the collection day in March. "After topping 13,000 food items in 2013, I thought we'd reached our maximum potential with last year's incredible total, but this year was amazing." READ MORE…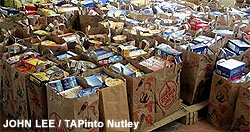 Trader Joe's Donated 6,000 Bags to be filled for Scout Food Drive for Nutley Family Service Bureau Trader Joe's donated more than 6,000 handled grocery bags be filled during the Scouts annual township wide food drive to benefit the supplemental nutrition program of the Nutley Family Service Bureau (NFSB). The food drive took place on Saturday March 25. Early in the week, residents of the Nutley found Trader Joe's bags on their door handles with a message from a local scout describing the food drive. These bags were to placed on the doorstep on Saturday morning with food donations. Sometime after 10 a.m.scouts, and parents who gave up their morning to help, made their way through town picking up filled bags. Car, truck, SUV and Jeep loads of filled grocery bags were then delivered to NFSB all day. READ MORE…
NFSB Trustee recognized for volunteerism. Theresa Loch, of Keller Williams NJ Metro Group in Montclair was recognized by New Jersey Realtors(r) Good Neighbor Awards for her commitment to community service. A Realtor for the past 16 years, Theresa Loch has been a volunteer Board trustee of the Nutley Family Service Bureau for the past four years. NFSB provides mental health and social services to individuals and families in the community. When the American Red Cross closed its Nutley chapter in 2015, which meant the dissolution of a food pantry, the agency acquired the property and continued regular distribution of goods to those in need. Theresa was instrumental in helping to secure the ARC property. A Nutley resident, Loch is married with three children. The Nutley Family Service Bureau will be awarded $1,500 on her behalf.