Food Pantry FAQ
Food Pantry Frequently Asked Questions: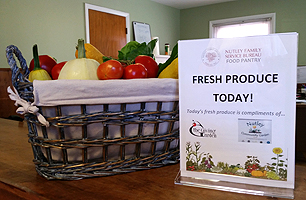 1.Q – How can a family or individual become eligible to participate in the food pantry program?
A – There are eligibility criteria in order to qualify for Food Pantry participation. At this time, you must be a Nutley resident to participate and qualify according to established guideline limits. Please CLICK HERE for guidelines.
2.Q – What information is needed to apply?
A – A minimum income verification and proof of residence are required. Additional required information may vary according to specific situations. For example, please see identification checklist form.
3.Q – What are the office hours when we can call or come in to NFSB to make an appointment for the application process?
A – Inquiries can be made at NFSB offices during the following hours: Monday through Thursday, 9:00 am-9:00 pm and Fridays, 9:00 am-6:00 pm.
4.Q – Are there any immediate Food Pantry needs?
A – The Food Pantry typically is in need of non-perishable proteins that must be re-stocked continually. These include items such as canned chicken and tuna, beans, canned beef stew, Spam and peanut butter.
5.Q – Where is the drop-off for nonperishable food items?
A – All food donations can be dropped off at the the Nutley Food Pantry located at 169 Chestnut St, Mon-Fri. 9:00 am-4:00 pm. Donations also can be dropped off at our main office, 155 Chestnut St during regular business hours.
6.Q – How can financial contributions be made?
A – Taking on the responsibility of providing for a community food pantry is a significant undertaking for NFSB and we certainly need and welcome your financial support. You can help by making a tax-deductable donation either to our General Fund or earmarked specifically to the Food Pantry through our website. CLICK HERE TO DONATE.
7. Q – How does someone become a volunteer at NFSB?
A – We have a cadre of dedicated volunteers that serve our community at both the Food Pantry and the NFSB Thrift Shop. To join the teams, please drop by our office at 155 Chestnut Street to fill out an application. The FP is the recipient of generosity from individuals, civic organizations, churches, and Nutley Township organizations.