News & Events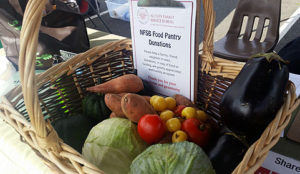 Join NFSB at the June 18th JerseyFresh Farmers Market. NFSB will be represented at the 8th season of JersyFresh Nutley Farmers Market, which begins Sunday, June 18, 9-2:00 pm, located at the Municipal Lot (behind Nutley Diner). Thanks Greenutley for supporting NFSB Food Pantry with fresh produce donations to NFSB Food Pantry!
 Past News & Events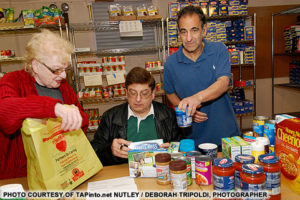 NFSB Food Pantry on TAPinto.net Nutley. Nutley residents who qualify are eligible for participation in the NFSB Food Pantry program, located at 169 Chestnut Street. Groceries are distributed every other week based on family needs. Along with non-perishable staples, such as pasta and peanut butter, refrigerated protein such as poultry and beef are often available. READ MORE…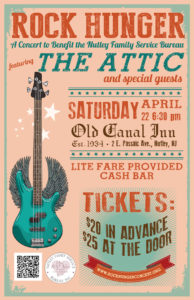 Rock Hunger – A Concert To Benefit Nutley Family Service Bureau. We hope you joined NFSB for a rockin' live show at the Old Canal Inn, 2 East Passaic Avenue, Nutley on Saturday evening, April 22nd. Headline band The Attic along with special guests brought down the house! Proceeds will benefit NFSB programs and services, including the Food Pantry. it was a great time for all that attended and for a great cause!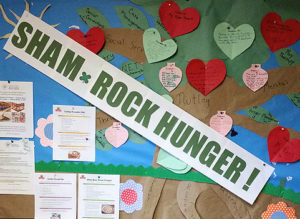 Sham-ROCK HUNGER Food Donation Drive. Canned goods collection for the Nutley Family Service Bureau Food Pantry this Saturday, March 4th. Items in greatest need: tuna, PB&J, mac & cheese, tomato sauce. Drop-off is from 12-4:00 pm in front of the NFSB Annex at 169 Chestnut Street. Help Sham-ROCK HUNGER and enjoy the St. Patrick's Day parade!
Meals For A Healthy 2017! ShopRite teams up with NFSB Food Pantry on Thursday, January 26th. Dietitians from ShopRite of Nutley and Belleville will be demonstrating how to prepare cost effective and easy ways to boost the flavor and nutrition in your family meals featuring seasonal grocery items. Please RSVP at the Food Pantry in person or by phone (973) 542-8276 or at the NFSB Main Office (155 Chestnut Street). Event is free and includes Grocery Bag Give-Away! DOWNLOAD FLYER.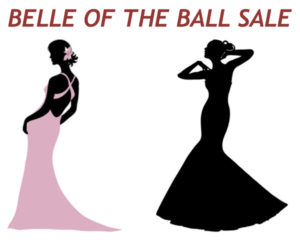 Belle Of The Ball Sale. Nutley Family Service Bureau is hosting a holiday shopping event featuring formal dresses, dress shoes, evening bags, jewelry and other festive attire. These new and gently used items have been pre-selected for this unique event. This is your chance to purchase a specially-priced gown, cocktail dress or other formal attire for an up-coming holiday event, winter wedding or formal party. As always all proceeds directly benefit the Nutley Family Service Bureau. Door Prizes, refreshments & giveaways… Admission is FREE! Friday, December 9, 2016, 5:00 pm to 7:30 pm, NFSB Annex, 169 Chestnut Street, Nutley, NJ 07110. Please call with questions and to register at (973) 667-1884. DOWNLOAD FLYER.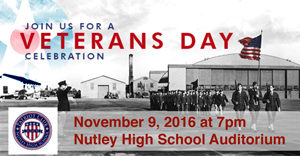 Celebrating our Vets! Presented in partnership with The Nutley Family Service Bureau, Knights of Columbus,
and Nutley Department of Public Affairs.
Join NHS students to celebrate veterans on Wed, Nov 9, 2016, at 7 pm at the Nutley High School Auditorium. Admission is free. Veterans and the public are invited. Every veteran who attends will be recognized with a certificate of appreciation. The program will include patriotic music, NHS Choir performances, and multi-media presentations. Following the ceremony, is a pasta dinner provided by Custodi Caterers & Zinicola Baking Company for all veterans and their families at the Knights of Columbus located at 150 Chestnut St. RSVP at (973) 667-1884 for dinner.
The NFSB Board of Trustees announced changes in personnel, effective June 6,
in response to the increased complexity of our mental health and social service programs:
Felicia Gardner transitioned to Director of Clinical Services and Programming, where she continues to serve as our mental health leader. NFSB and clients benefited greatly from her leadership as Executive Director, especially in revitalizing the mental health programs and staff expansion. She reports to the Executive Director.
Eileen Painter became Executive Director, and will focus on overall operations & finance, community relations, social services, and nonclinical staff & volunteer management. Eileen brings a wealth of experience in the non-profit sector and a personal alignment with our mission. Her most recent position was with the American Red Cross. We are thrilled to have such strong leaders to steer our future. Please join us in congratulating Felicia and Eileen in their new positions.
Please go to OUR STAFF page for more information.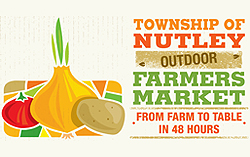 NFSB is partnering with Nutley Farmers Market. Join us at the Market to find out about community resources for healthy eating! On August 14th NFSB Executive Director Eileen Painter will lead a lively discussion about the agency and food insecurity during a scenic route Farmers Market Walk & Talk. She also will be available after the tour to answer questions about mental health counseling and additional social services provided at NFSB. Hope to see you there! READ MORE…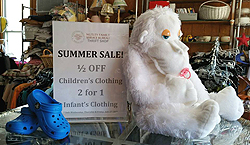 NFSB's Thrift Shop Summer Sale – This summer…when you beat the heat, beat high prices too! Stop by NFBS Thrift Shop for cool sales today through Sat. And look for additional sales throughout the season. For more details on NFSB Thrift Shop, please VISIT OUR PAGE.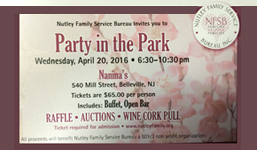 NFSB's Annual Fundraiser – NFSB's annual fund raiser, Party in the Park, is being held Wednesday, April 20th, 2016 at Nanina's in Belleville. Tickets are $65 per person and will include a sumptuous cocktail hour, buffet, open bar, auction, 50/50 Raffle ($25), wine cork pull, fun, and friends! READ MORE…