Volunteers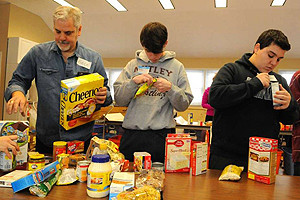 Volunteers play a key role in supporting NFSB's dedication to community service. The essential qualification for NFSB volunteerism is a desire to make a meaningful contribution to the community through the agency's social service operations.
The Thrift Shop is always in need of help for retail sales, merchandising and inventory. The Food Pantry requires much assistance for food drive collections, stocking shelves, and distributing goods. So many opportunities to get involved!
NFSB appreciates the time and energy that every volunteer puts forth to helping the agency make a positive impact on the well-being of individuals and families in the community! If you wish to volunteer, please download the appropriate forms below.
If you have any questions, please contact Eileen Painter at 973-542-8276 or epainter@nutleyfamily.org.
INSTRUCTIONS
Please fill the appropriate forms and mail them to Nutley Family Service Bureau, 169 Chestnut Street, Nutley, NJ 07110, Attn: Eileen Painter, Executive Director. You may also scan your completed forms and email them to epainter@nutleyfamily.org.
ADULTS
– Volunteer Information & Application Form – DOWNLOAD
– Adult Volunteer Liability Waiver & Photo Release Form – DOWNLOAD
– Confidentiality Acknowledgement Form – DOWNLOAD
– Registry Of Offender Form – DOWNLOAD
YOUTH
– Volunteer Information & Application Form – DOWNLOAD
– Youth Volunteer (under 18 years of age) Liability Waiver & Photo Release Form – DOWNLOAD
– Confidentiality Acknowledgement Form – DOWNLOAD
– Registry Of Offender Form – DOWNLOAD