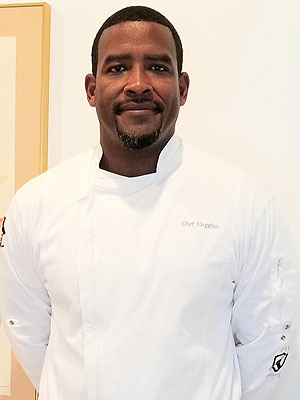 Tarik Huggins has been cooking professionally for over 23 years. He always has loved cooking and competed in the ShopRite Kids in the Kitchen competition when he was barely out of grade school. He succeeded in making the dream of being a chef a reality by honing his craft at various institutions. He completed his Associates Degree in Culinary Science from Union County College and attended Johnson and Wales University, and Hudson County Community College. Tarik was graduated from Fairleigh Dickinson University with a Bachelor's Degree in Hotel, Restaurant and Tourism Management, and was graduated from St Peter's College with a Master's Degree in Education.
Tarik is a Nutley High School faculty member and director of the Culinary Club since 2004. He is inspired by the students, and says, "The best part of teaching is the kids. The most important part of my job is preparing the students for the future. Giving them the skills to do what they want to do." Tarik is delighted to have the opportunity to share his experiences and knowledge with colleagues, students, and the wider community.
NFSB is pleased to have Tarik take center stage at the 2019 Garden Party as our spotlight chef. We look forward to watching him prepare two signature dishes for tasting by the guests at this special culinary and musical event.