Thrift Shop
BAG A BARGAIN!
End of Season Bag Sale – Bag a Bargain at the Thrift Shop End of Season Bag Sale! Hot pink shopping bags, generously donated by Duratech Group, may be filled to overflowing. Purchase 1 Bag for $8.00, 2 bags for $15.00 or 3 Bags for $20.00. Clothing, shoes, accessories, house wares and so much more. Special pricing even for oversized items that don't fit into the bag. DOWNLOAD FLYER.
Friday: 10:00 am to 5:00 pm
Saturday: 11:00 am to 3:00 pm
Our End of Season Bag Sale has been extended to Monday, August 13th, 10:00 am to 4:00 pm!
Thrift Shop Photo Gallery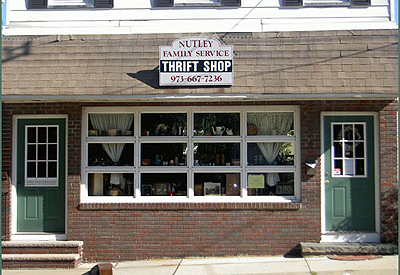 The Thrift Shop was opened by the Board of Trustees in 1933 and from the outset was intended to both meet the needs of families in the community, and to be a source of funding for the Bureau. In late 1930's, the Thrift Shop closed its doors due in part, to the economic downturn of the Great Depression. In 1949 it was re-activated. It is currently located at 172 Chestnut Street, Nutley, NJ 07110.
The Nutley Family Service Bureau is opened to the general public. It is staffed by a dedicated core of volunteers. It runs on gently used donated items. Merchandise is focused on family needs, therefore children's items such as toys and clothing are accepted in addition to a variety of goods, such as adult clothing including shoes and accessories, household items and small appliances. The location cannot accommodate furniture or appliances.
For health and safety reasons, we cannot accept:
– Child gear:(such as car seats, cribs, high chairs, strollers).
– Electronics:(such as TVs, VCRs, PCs, monitors, printers
– Medical Devices: commodes, crutches, walkers
100% of the funds raised from the NFSB Thrift Shop directly support the services and programs offered at the Nutley Family Service Bureau. Thank you for your patronage!
Summer Hours
Monday: 10:00 am to 4:00 pm
Tuesday to Thursday: 10:00 am to 1:00 pm
Friday: 10:00 am to 5:00 pm
Saturday: 11:00 am to 3:00 pm
Questions? Please call us at 973.667.7236.