NFSB Food Pantry Brings Mobile Shop the Pantry to Local Seniors
Posted on

March 21, 2023

by

admin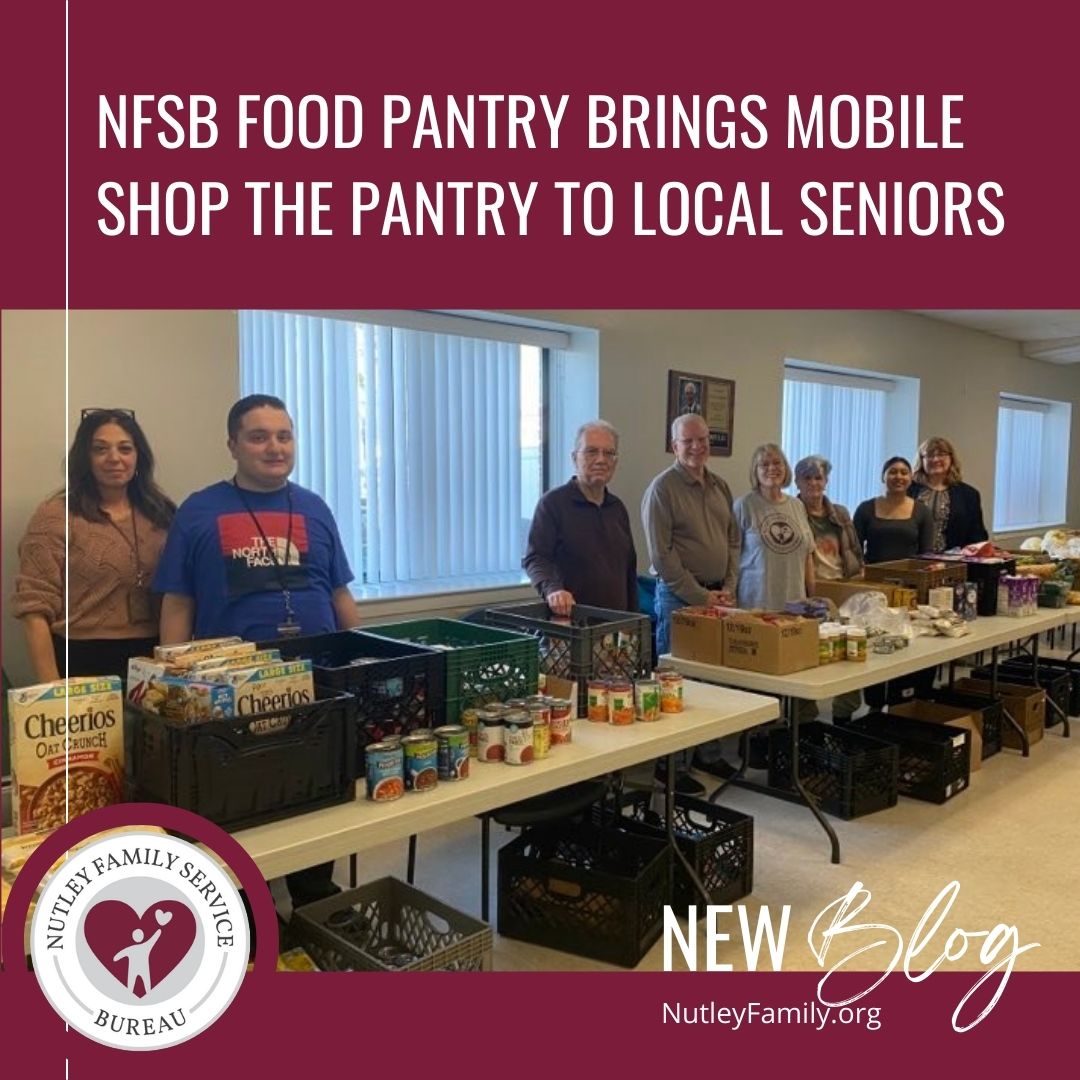 Through the Nutley Family Service Bureau (NFSB) Senior Grocery Delivery Program, Food Pantry staff and volunteers have been delivering pre-packed bags of groceries on a bi-weekly basis to the two senior residences in Nutley – the Nutley Senior Manor and Nutley Parkside Apartments.
While residents have been extremely grateful for this service, we've taken our commitment to local seniors a big step further by offering a similar personal shopping experience that people who visit The Food Pantry receive.
NFSB will extend the Shop the Pantry program by bringing a variety of shelf-stable and fresh food items to each senior residence every other week. Residents who enroll in the program can walk out of their apartments and into our on-site "market," where they can choose which items, they'd like based on their specific dietary needs and personal preferences.
"We had 18 clients at the Nutley Senior Manor and four more signed up when we made this announcement," said Food Pantry Assistant Manager Joan Roake. "We expect to add an additional 12 clients based on the interest we're received. Bringing Shop the Pantry right to our clients will allow more of them to get the food they need and enjoy."
This program has already begun at the Nutley Senior Manor every other Wednesday from 10 am – noon, and we expect to bring Shop the Pantry to Nutley Parkside Apartments in April. In addition to shelf-stable items, residents will have access to fresh foods, including proteins, fruit and vegetables, and baked goods, depending on availability. The types of food are likely to vary from visit to visit. "NFSB's Food Pantry program wants to continue to improve our service based on our client's need for healthy choices and accessability" said Peg Conca, Manager of the NFSB Food Pantry and Thrift Shop.
"We've noticed more clients choosing fresh items based on their doctor's nutritional recommendations," Joan said. "We look forward to seeing what items people take and hearing their feedback so we can continuously improve the selection we provide. This will make clients happier and healthier and reduce waste."
Another big reason for the enthusiasm for this program at the senior residences is the social component. Shop the Pantry creates regular opportunities for residents to meet and interact with community members, NFSB staff and volunteers. We look forward to providing our clients with a fun shopping experience and catching up with them every other week!
Volunteers Needed!
Whenever you "take the show on the road," so to speak, more help is needed to make it successful. Our volunteers continue to be extremely committed and generous with their time, but we can always use more support for this extension of our Shop the Pantry program.
We're looking for volunteers who can pack food items in crates and coolers, set up tables, greet clients, help clients find what they need, carry bags, and break down at the end. Please let us know if you'd like to help!
If you're interested in volunteering or enrolling in Food Pantry services, please stop by NFSB at 169 Chestnut Street, Monday – Friday from 9 am – 5 pm or call 973-667-1884. You can also visit the Food Pantry page or Volunteers page on the NFSB website for more information.