Nutley Family Service Bureau: Pantry Resource For Food Insufficiency
Posted on

March 1, 2021

by

admin
Published by Nutley Neighbors, March 2021 –
Submitted by Emma Cortese, PhD, NFSB Board of Trustees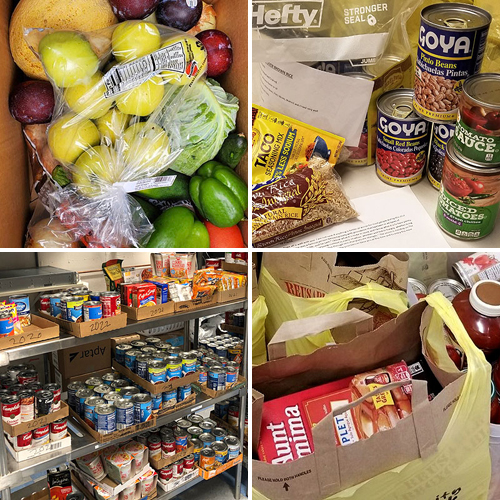 Nutley Family Service Bureau, Inc. (NFSB) is a local nonprofit mental health and social service organization working tirelessly to help our clients during the current pandemic crisis. Our Food Pantry is focused particularly on food insecurity at this time. The US Department of Agriculture defines food insecurity as "limited or uncertain availability of nutritionally adequate and safe foods." Such insecurity can manifest in various ways along a continuum, from anxiety that food will run out before more can be purchased, to reduced size and/ or quality of meals, to missing them altogether.
A recent report issued by The Community Food Bank of New Jersey highlighted the impact of the pandemic on increasing food insecurity across all socio-economic strata. The number of residents across the state who are struggling with hunger is projected to rise by nearly 60% as a direct result of COVID-19, 10% higher than the national average. Closer to home, Essex County had the highest food insecurity rate pre-pandemic and remains among the highest. It is in this environment that NFSB continues to be a community resource.
The Pantry impact numbers for 2020 reflect our responsiveness: number of households served has increased by 30%, including 350 households and 700 individuals served. We dispense groceries on a routine basis: on site at 169 Chestnut St. every other week alternating with deliveries to residents at Parkside Apartments and the Nutley Senior Manor. Despite increased demands, the Pantry has maintained high-value food staples including shelf-stable essentials such as canned tuna, beans, peanut butter, rice, cereal and pasta; a selection of fresh produce, dairy, eggs, and meat proteins are often available.
In addition to the mounting numbers, the landscape of food insecurity is changing. Temporary or episodic food insecurity is a stark reality for many households which never have faced such circumstances. Unexpected job loss or reduced income due to COVID-19 has forced budgetary trade-offs wherein essential expenses such as utility bills, car payments, and rent may compete with food purchases.
Katherine Carmichael, Executive Director, emphasizes "The NFSB Pantry is always open to meet the needs of a township member in crisis, may it be, for example, a loss of employment, domestic violence, medical debilitation, or fire. Additionally, anyone in Nutley who already receives Medicaid, Supplemental Security Income (SSI), Supplemental Nutrition Assistance Program (SNAP) for Women, Infants and Children (WIC) and/or Temporary Assistance for Needy Families (TANF) qualifies." Ever aware of prevailing township socio-economic factors, our Food Pantry participation criteria have reflected the higher cost of living locally and set the enrollment threshold accordingly.
The NFSB Food Pantry is an inclusive environment, which guards client confidentiality and respects personal privacy. Pantry personnel assist with the enrollment process which has minimal administrative requirements and can additionally provide help in navigating government programs. Peg Conca, Food Pantry and Thrift Shop manager, emphasizes the Pantry's accessibility, "Individuals who find themselves in need of our services can walk in to start the process. Emergency situations are never turned away." For inquiries about how to participate in the NFSB Food Pantry program, call 973-667-1884 ext. 2 or go to www.nutleyfamily.org/food-pantry. In-person inquiries can be made Monday through Friday, 9am to 5pm.
The mission of NFSB is to strengthen the emotional and social well-being of individuals and families through affordable counseling and social service programs. The support of community partners such as municipal, business, civic, and religious organizations, as well as generous township residents, has enabled NFSB operations to continue, even during this time of pandemic crisis.