Family Meals Month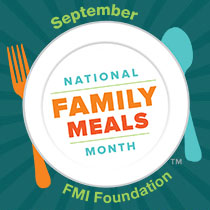 ShopRite and the NFSB Food Pantry partnered for another Edible Education event on Tuesday, September 24th!
Dietitians from ShopRite of Nutley & Belleville demonstrated how to prepare cost effective & easy ways to boost the flavor and nutrition in your family meals featuring seasonal grocery items.
Tuesday, September 24th at 5:00 pm
NFSB Multi-Purpose Room, 169 Chestnut Street, Nutley, NJ 07110
Please RSVP in person at the Food Pantry or by phone at
(973) 667-1884, ext. 2 or at the NFSB Main Office (973) 667-1884, ext. 1
FREE OF CHARGE TO ALL – GROCERY BAG GIVE-AWAY!