NFSB Expands Mental Health Treatment with Psychiatry and Medication Management
Posted on

September 29, 2023

by

Mindy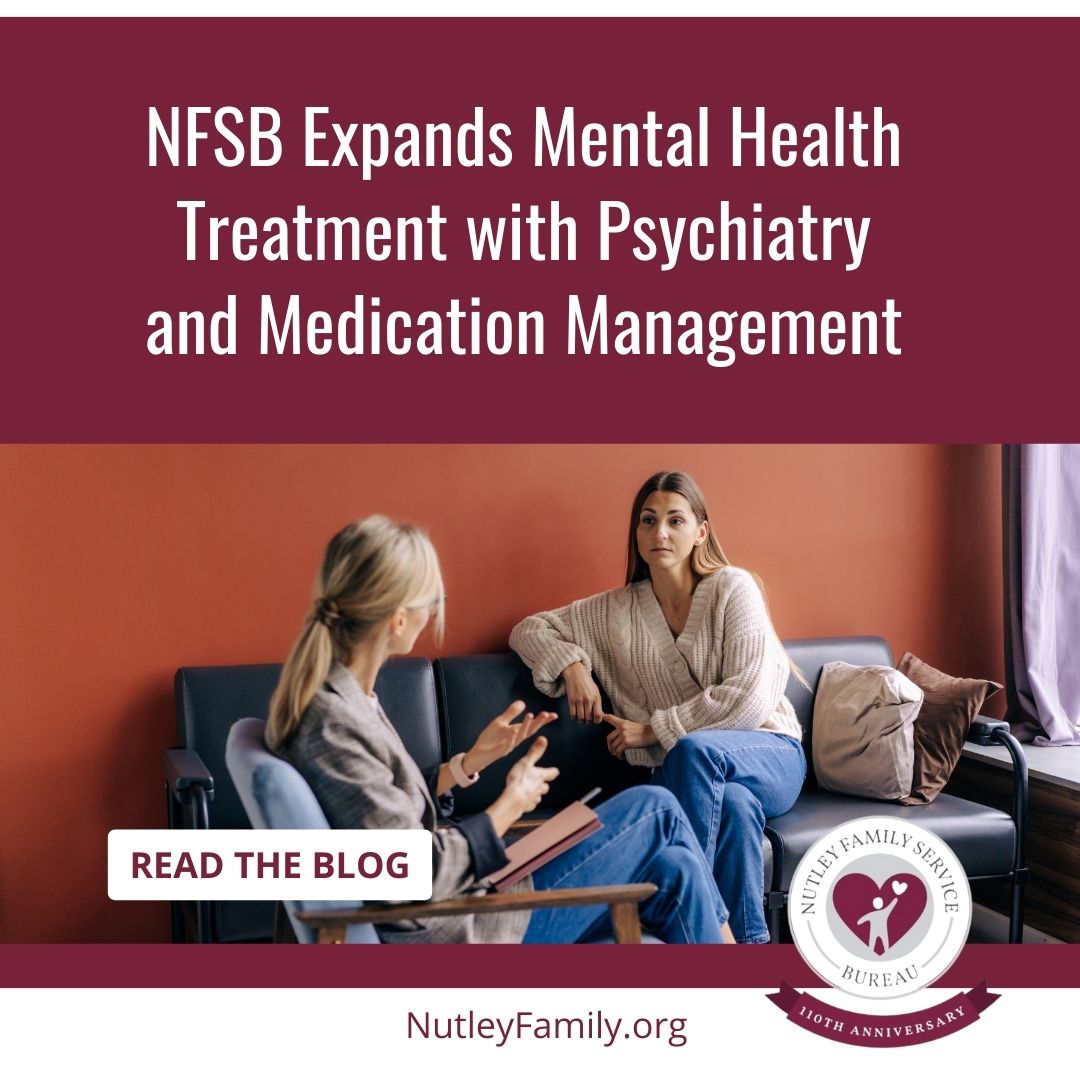 Nutley Family Service Bureau (NFSB) is proud to welcome Barbara Njuguna, Psychiatric Nurse Practitioner, to our mental health program. Clients are now able to schedule appointments for psychiatric evaluations and medication management at NFSB.
"We want the community to know we have a comprehensive approach to mental health treatment," said Kelly Rivadeneyra, LCSW, Assistant Director of Clinical Operations at NFSB. "While psychotherapy is a very important part of treatment, we recognize that psychotropic medication can also be beneficial to a person's mental health. Now, you can receive both services without leaving NFSB."
Barbara holds a certificate in Psychiatric Mental Health – PMHNP from Washburn University. She earned a Master of Science in Nursing from Widener University, a Bachelor of Science in Nursing from the University of Delaware, and a Bachelor of Science in Chemistry from Lincoln University.
The Role of Medication in Mental Health Treatment
While a licensed mental health professional (LSW, LCSW, LPC, LAC) provides counseling through psychotherapy, Barbara is licensed to prescribe psychotropic medication as a Psychiatric Nurse Practitioner. Different types of medication function in different ways to address neurotransmitters and chemicals in various parts of the brain. The goal is to restore balance in these neurotransmitters and chemicals to reduce symptoms.
"Many clients would like to start treatment by addressing their challenges with psychotherapy," Kelly said. "We may find that certain symptoms are still persistent or distressing for the client, making it difficult to get through the day. At that point, we'll have a conversation about medication to help alleviate and manage those symptoms. We also see new clients who have already seen a medical professional and incorporate medication into treatment right away."
Ultimately, the client makes the final decision about medication. With a psychiatric nurse practitioner on board, NFSB has the ability to offer evaluations and medication management in-house. The client doesn't have to schedule separate appointments at another facility.
Overcoming Misconceptions of Psychotropic Medication
Some clients express fear of becoming addicted. Others are concerned that medication will change their personality. Like mental health counseling in general, some clients see medication as a sign of weakness and are ashamed that they can't overcome their challenges themselves.
"While there are some medications that have the potential to build dependency, many do not," Kelly said. "For example, antidepressants are not chemically addictive. You will not build a tolerance for antidepressants, and you will not become a different person when you take medication. Medication works by regulating neurochemical imbalances to reduce symptoms, not by changing the individual."
This is where medication management comes into play. Every client will meet regularly with their therapist and the prescribing professional, who will collaborate to assess the client's progress, make sure the dosage and medication are correct, and ensure any side effects are minimal. We'll also discuss other forms of intervention that can help the client, including coping skills and lifestyle changes.
We're excited to expand our mental health services and make comprehensive treatment more accessible and convenient for the community. If you or someone you know is going through a rough patch, facing serious challenges, or just needs some additional support, schedule an appointment at NFSB by calling 973-667-1884. Immediate appointments are available, and we'll always respect your privacy.