NFSB Helps Seniors Navigate Social Services and Overcome Isolation
Posted on

August 11, 2021

by

admin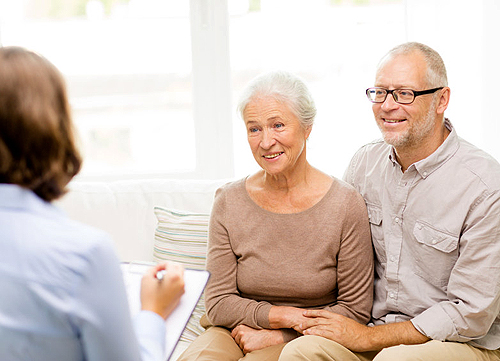 Seniors in our community have been affected more by COVID-19 than any other group. Need for social services in particular has never been higher, and the team at Nutley Family Service Bureau (NFSB) is eager to guide seniors through what is often a complicated process.
"When seniors get a letter from their insurance company, Medicare, or Social Security, it typically comes with pages and pages of other materials," said Molly Clark, MSW (Master of Social Work), Case Management Coordinator at NFSB. "We always tell seniors to call us as soon as they receive a letter so we can help them fill out paperwork, make the necessary calls, and respond on time."
Navigating the automated prompts and interacting with a robot during a phone call can be confusing and frustrating. Some clients have told us that they just hung up because they couldn't get in touch with a live person. This can cause people to have services delayed or, in rare cases, they could miss out on services they need.
Another challenge is the fact that seniors are targeted by phone and mail scams more than any other segment of the population. The daily process of sifting through mail to separate important documents from scams and junk only adds to the confusion.
"We help clients find important information, and we sit with them while they're on the phone," Molly said. "We explain the process. We wait on hold with them. We figure out how to get a live person on the phone. Then we advocate for them to ensure they receive the services they're eligible for."
Overcoming Isolation
Historically, seniors tend to be the most isolated group of Americans. COVID made the situation even worse. Many vaccinated seniors are still uncomfortable leaving their homes or having visitors. Others have mobility and chronic health issues that contribute to their isolation.
NFSB is always looking for ways to help seniors reengage with the community. That begins with helping seniors get the services they need, from home care to transportation to food.
"Many of our senior clients were born and raised in Nutley and were once very involved in the community," Molly said. "Rebuilding that connection with the community would mean so much to them, but the first step is receiving services to ensure their basic needs are met."
For example, one client who was receiving cancer treatments had his car break down and he couldn't afford to fix it. We helped him connect with free transportation services for seniors offered by Essex County. Without transportation, he might have missed treatment.
"Call NFSB. Maybe They Can Help."
Aside from confusion about the process, perhaps the single biggest obstacle preventing seniors from seeking help is the stigma that comes with social services. This generation grew up self-sufficient and proud. Unfortunately, the high cost of living today, along with limited work options due to COVID, make it extremely difficult to get by without help.
"With COVID, we've seen a surge of people needing assistance for the first time in their lives," Molly said. "They just can't catch up. We try to get people to put aside the stigma of welfare and food stamps and realize that Medicaid, SNAP (Supplemental Nutrition Assistance Program), and various public assistance programs exist for situations just like these. They're here to support people through a difficult period."
We encourage Nutley seniors who are struggling in any area of their lives to call NFSB. We can explain your options, discuss available services, and help you navigate these services when you're ready. As Case Management Coordinator, Molly will coordinate and follow up with various services, agencies, and organizations so you get the help you need.
"I always tell people, 'I'm so glad you came in. You made the right decision,'" Molly said. "I want everyone who calls or visits NFSB to know it's okay to seek help. That's why we're here."
If you'd like to learn more about senior services and case management offered by NFSB, please call 973-667-1884.