The Garden Party to Benefit NFSB Returns to Mountsier-Hardie Garden This Fall
Posted on

August 5, 2021

by

admin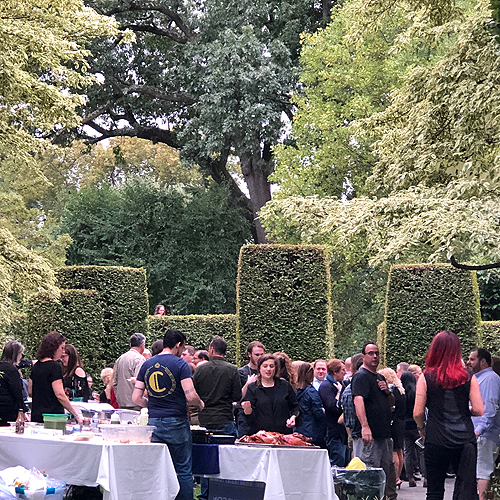 The return of popular live events in 2021 continues as Nutley Family Service Bureau (NFSB) presents The Garden Party at the spectacular Mountsier-Hardie Garden in Nutley. This year's event will be held on Sunday, September 12 from 4 pm to 7 pm and feature food from top local restaurants, an eclectic mix of music and entertainment, and access to the private grounds of the Mountsier-Hardie Garden.
Designed by owners Silas Mountsier and Graeme Hardie and famed landscape architect Richard Hartlage, the Mountsier-Hardie Garden is a true natural wonder right here in Nutley. The two-acre treasure has been featured in top publications, including a recent issue of NJ Monthly, for its brilliant landscape, more than 80 sculptures from renowned artists, charming seating areas and garden rooms, and thousands of flowers, plants, and trees.
Tickets for The Garden Party are just $75. You'll be able to stroll the garden grounds, sample food donated by more than a dozen local restaurants and participate in a wine tasting. Entertainers donating their time and talent to the event will include opera singer Sheldrake Lucas, poet Xandt Wyntreez, and popular local band The Attic. NFSB Executive Director Katherine Carmichael shared, "All proceeds will benefit NFSB health and human services programs with a particular emphasis on supporting our Pantry, Case Management, Support Groups and Partnership with the Nutley Public Schools. I'm so grateful to Silas Mountsier and Graeme Hardie for sharing their special garden and our NFSB Development Committee for organizing the event."
"We wanted to make The Garden Party accessible to the entire Nutley community and our volunteers," said NFSB board member Dave Popkin, who is planning the event with the NFSB Development Committee, including committee co-chair Rob Frannicola, and Hardie and NFSB Development Assistant Emilie Pulecio. "This has become one of the most anticipated events of the year because of the gorgeous setting and great local food and entertainment."
Emilie adds, "A special thanks to our Nutley restaurant community for participating and supporting NFSB. They provide the event with a wonderful tase of our local cuisine."
The Mountsier-Hardie Garden started as a small, conventional garden in 1946 when Mountsier returned home from World War II. In 1992, Hardie joined Mountsier and the two sought the expertise of Hartlage to help them expand and enhance the garden. During the past 30 years, the Mountsier-Hardie Garden has evolved into one of the finest private gardens in the Northeast.
"It's amazing that Nutley is home to such a gem that is a work of art in itself," Dave said. He emphasized NFSB's gratitude, "We appreciate the generosity of Silas and Graeme to the organization and consider ourselves fortunate that they continue to host The Garden Party each year."
Please join us for a delightful afternoon of food, wine, and entertainment at The Garden Party, a special event to benefit NFSB, on Sunday, September 12 from 4 pm to 7 pm at the Mountsier-Hardie Garden, 205 Rutgers Place in Nutley.
To purchase tickets for just $75, find more information about the event, and see photos and videos from the 2019 Garden Party, visit The Garden Party event page on the NFSB website and follow NFSB on Facebook.