NFSB is grateful for our partnership with Nutley Park ShopRite, please donate your holiday ham!
Posted on

March 30, 2023

by

admin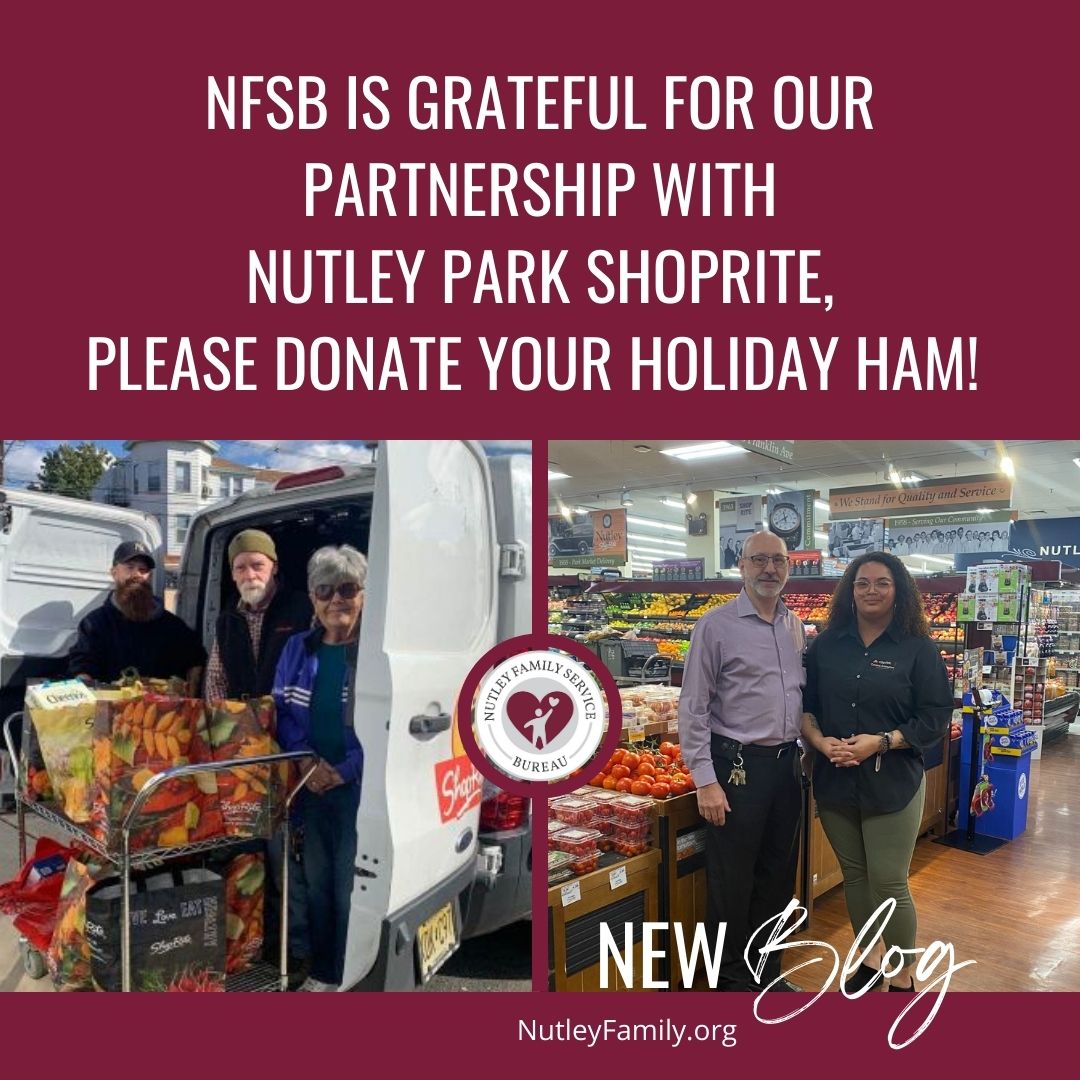 With every purchase, customers of Nutley Park ShopRite of Nutley earn points towards a free holiday ham. Continuing a spring tradition, Nutley Family Service Bureau (NFSB) has partnered with ShopRite to let customers know that holiday hams can be donated to the NFSB Food Pantry for distribution to our clients!
Just tell a ShopRite associate that you'd like to donate your ham and ShopRite will deliver the ham to NFSB. Hams can be donated through Wednesday, April 5 for holiday distribution. Of course, we'll be happy to accept hams right up until the deadline for redeeming points on Saturday, April 9.
"Each year, we receive about 75 to 100 holiday hams from ShopRite customers," said Peg Conca, NFSB Food Pantry and Thrift Shop Manager. "Our clients love receiving holiday hams at this time of year. We're grateful for the support of ShopRite of Nutley, the LoCurcio family, and the Nutley community."
Nutley Park ShopRite has been a long-time partner and supporter of NFSB, offering food donations for Thanksgiving and Easter, shopping carts for the Scouting for Food Drive, and unwavering support for NFSB fundraising events and programs. ShopRite recently started a monthly food collection that benefits NFSB through the Community Food Bank.
Last year, NFSB introduced the LoCurcio Scholarship, an award of $1,000 given annually to a student of Nutley who has volunteered at NFSB. The scholarship honors the contributions of multiple generations of the LoCurcio family, who own ShopRite stores in Nutley Park and Belleville.
"This is a wonderful program that makes it easy to help neighbors who might be struggling to put food on the table," Peg said. "I've seen how much our Food Pantry clients appreciate receiving a holiday ham, and I'm confident that our community will step up as they always do to lend a hand to those who need it."
If you've earned enough points at Nutley Park ShopRite of Nutley to redeem a ham that you don't want or need, please consider telling the folks at ShopRite that you'd like to donate your holiday ham to NFSB!
To learn more about NFSB Food Pantry services or enroll to receive healthy, nutritious food every two weeks, visit the Food Pantry page of the NFSB website or call 973-667-1884 extension 2.