How Counseling Helps LGBTQ People and Their Families Move Forward
Posted on

June 27, 2023

by

admin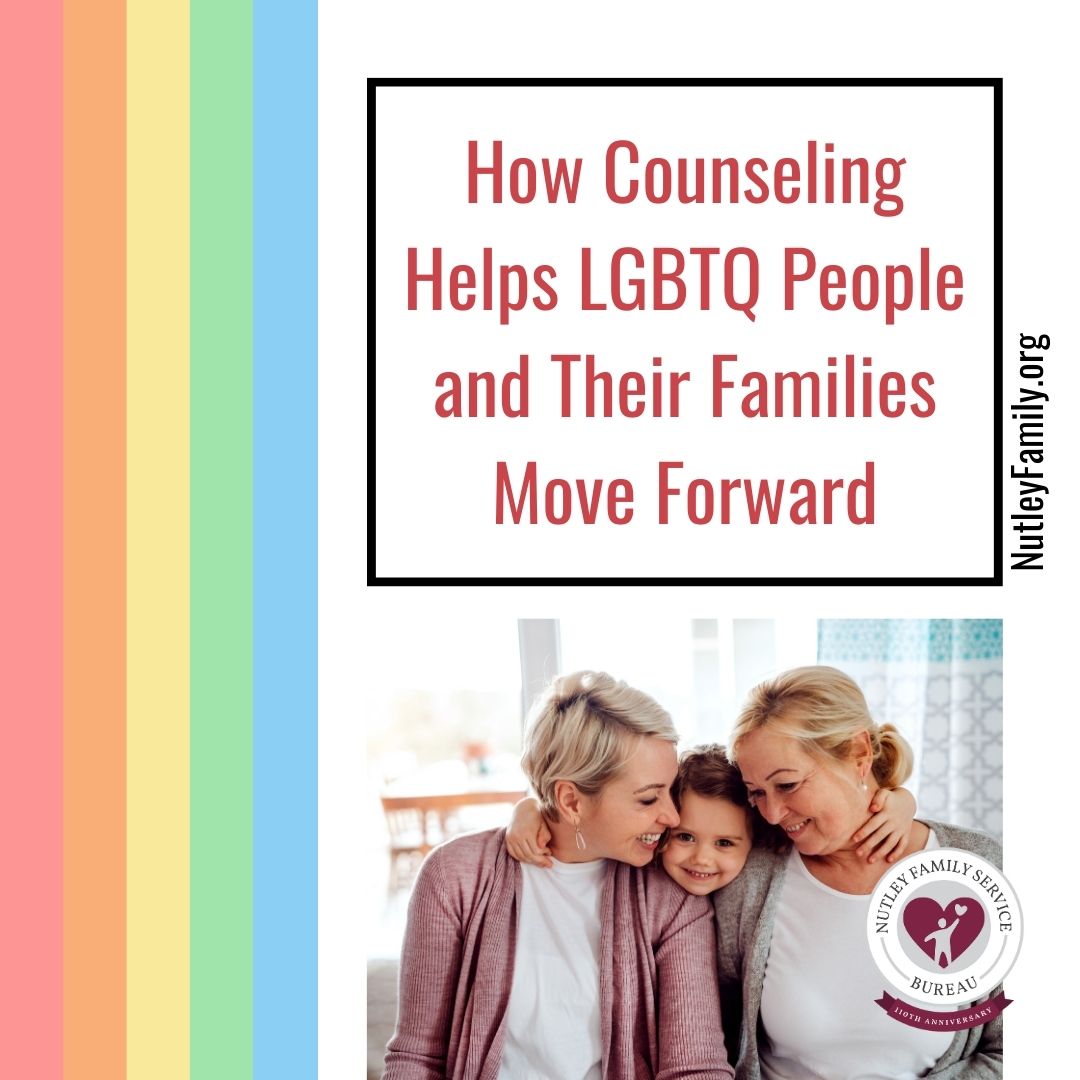 It's not uncommon for parents and families to experience feelings of anxiety or loss when they learn a loved one is gay, lesbian, bisexual, or transgender. Creating a safe space to discuss these feelings without jumping to conclusions is the first step to helping a family move forward.
"Parents will often fast forward to the worst possible scenario," said Staela Keegan, MSW, LCSW, LCADC, Senior Clinical Supervisor at Nutley Family Service Bureau (NFSB). "They worry that their child will be bullied or become an outcast. They might wonder if they'll be able to have children. In any situation, we need to stay in the moment and take it one step at a time."
In many cases, especially involving children, an individual could be struggling to accept and understand who they are. Family members could be facing the same struggles. Even when parents and siblings are totally supportive because they only want their family member to be happy, they still have to work through feelings of their own to get to a place of understanding and acceptance.
Coping with Loss and Grief
"It's natural for family members to feel a sense of loss or grief," Staela said. "The person they know is still there, but they seem different now. Maybe the family member's vision for their loved one's future will change. While this isn't the same as grieving after someone passes away, the feelings of grief are very real and people need help coping."
Once a family member can relate to another on an emotional level, biases are more likely to be put aside out of love and respect. However, grieving is often part of that acceptance process.
In other cases, the relationship with the family is in a bad place by the time we see a client. We saw a transgender client who had been receiving gender-affirming care while preparing for surgery despite serious objections from the family.
The clinician asked permission to bring the family into counseling to gain clarity on the client's perspective and the family's beliefs. They still have a long way to go, but they've made meaningful progress in repairing their relationships.
Bringing Families into Therapy
When a counselor seeks to include family members in counseling to discuss the client's gender identity or sexual orientation, the client often resists. Instead of simply abandoning that suggestion, the counselor will discuss what topics the client does and does not feel comfortable discussing with family. They might role play based on what they think will happen during a family session. This can help to reduce anxiety.
"Counseling sometimes has a ripple effect," Staela said. "When we look at the bigger family system rather than an individual, we'll be in a better position to identify and address the source of the problem. We recently saw a teenager who was struggling with their gender identity. By bringing the whole family into counseling, the teenager was able to find clarity and the parents gained a better understanding of their family system."
An important role of the counselor is that of a mediator who can diffuse a tense situation and create an atmosphere of open communication and respect. When there's a shared purpose to find common ground and build understanding, the outcome is usually positive. When the family won't even come together to talk, they're far more likely to stay apart.
NFSB clinicians have experience counseling the LGBTQ community and their families. We want parents, siblings, and extended families to know that it's okay to be anxious or confused. It's okay to not know what to say or how to feel. That's why we're here.
For the sake of your own mental health and your relationship with your loved one, let's talk about it and work through those feelings. To schedule an appointment, call the Mental Health Center at NFSB at 973-667-1884. Immediate appointments are available and we'll always respect your privacy.