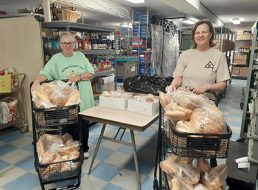 Posted on July 28, 2021 by admin in All Articles, NFSB Blog

In 2017, Dorothy Huey asked the person behind the counter at a local bakery what they do with their bread at the end of the day. The person said any leftovers are thrown out. "I know bakeries can only put out fresh bread each day, but I didn't realize the bread that wasn't sold was […]

Comments Off

on Nutley Bakeries Step Up to Provide Bread to Those in Need

Continue Reading...