NFSB Case Management Services Continue Meeting Community Needs
Posted on

July 7, 2021

by

admin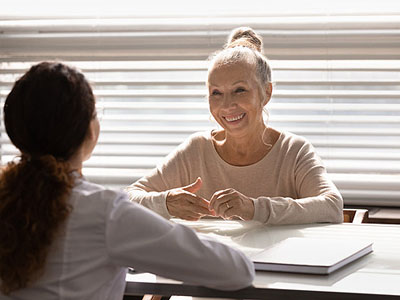 For many years, Nutley Family Service Bureau (NFSB) has offered case management services to assist members of the community with food insecurity, housing, financial assistance, home care, and other important services. To enhance the case management program and ensure that clients receive the help they need, NFSB recently introduced Molly Clark, MSW (Master of Social Work) as the organization's Case Management Coordinator.
Since the pandemic, demand for NFSB services across the board has increased. Despite the restrictions and fear caused by COVID-19, NFSB has continued to provide much-needed case management services for seniors, those with food insecurities, and the community in general.
"NFSB has a longstanding reputation as a place you can go for help," Molly said. "We want the community to know that they can come directly to us for information and assistance instead of trying to figure out what services are available, where to find them, and how to apply."
Navigating Social Services
Social services programs can be confusing and frustrating between phone calls, paperwork, and eligibility requirements. This can cause delays in people getting the help they need. That's why NFSB doesn't just connect clients with services. We see them through the services.
"In my experience, when social services hears that an agency like NFSB is on the line, their ears perk up because they know we're serious about helping," Molly said. "They know we'll have proper documentation, forms will be completed correctly, processes will be followed, and we'll follow up to make sure the case is progressing."
We sit down with each client, explain what services are available, get on the phone when they speak with social services, fill out forms with them, and mail forms for them. If they're denied, we find out why and resubmit applications. By advocating for clients, we help reduce stress and expedite the process of finding and securing the right assistance.
Recognizing Other Areas of Need
Food insecurity is the most common challenge that brings people in the door at NFSB. In addition to providing people with food, we look to identify the cause of food insecurity and recognize that this is a problem often accompanied by other issues.
For example, they could be dealing with mental health issues such as anxiety and depression. If they're on medication that has to be taken with food, food insecurity can cause physical health issues to worsen. If they can't afford food, they're probably experiencing other financial challenges. They may also need housing.
"One of the most important parts of case management is screening people to find out what services they need and explaining what help is available," Molly said. "Even if they're not interested in services now, it's important to educate them about what's out there. Clients know they can come to NFSB when they're ready and we'll be there for them."
Unfortunately, many people are hesitant to seek help because of the stigma attached to welfare, food stamps (now SNAP, the Supplemental Nutrition Assistance Program), and other programs and services. We explain to clients that these services exist to help them get through temporary challenges in times of need.
NFSB helps clients navigate programs such as SNAP, Medicaid, Temporary Assistance for Needy Families (TANF), the Women, Infants, and Children (WIC) nutrition program, and the Low-Income Home Energy Assistance Program (LIHEAP). Instead of having clients go back and forth with representatives, we guide them through the process so everything is handled correctly the first time.
For seniors who are struggling to live independently, we ask a lot of questions to make sure they're capable of basic self-care that most people take for granted.
"When our agency visits with seniors, we try to assess all areas of their daily functioning to ensure any unmet needs are addressed," Molly said. "For example, if someone is struggling to walk, do they need help with basic tasks around the house? Being able to understand the different factors of aging and how they affect someone's quality of life are important to helping seniors in our community age in place."
One of the biggest challenges in New Jersey right now is housing, with limited options and long waitlists. We can find clients a safe place to go on the same day, even if we have to search surrounding towns for shelters and emergency housing. Most importantly, we never leave clients to fend for themselves.
"When someone comes to us for support, they need real support, not a list of phone numbers and websites," Molly said. "Case management services succeed because we take the time to listen and guide people through a difficult journey. Nutley residents should know we're here for them, we care about them, and they can count on us when they need help."
If you'd like to learn more about services available to help you overcome challenges in different areas of your life, please call NFSB today at 973-667-1884.