Last Chance to Register for the Inaugural Bedford Golf Classic to Benefit NFSB!
Posted on

July 2, 2021

by

admin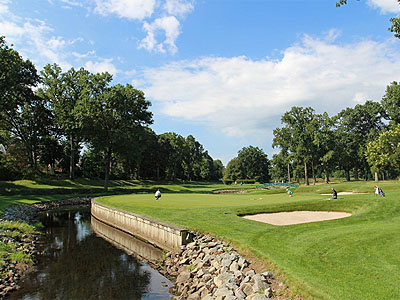 Submitted by Dave Popkin, Board of Trustees
Openings for two-person teams still remain for the inaugural Bedford Golf Classic, a fundraiser to benefit the Nutley Family Service Bureau (NFSB) on Monday, July 12 at Glen Ridge Country Club. The event is named in honor of Ruth Bedford, affectionately known as the matriarch of Nutley.
Ruth was a member of the NFSB board of directors for decades, served as board president, and was named a Lifetime Trustee in 2013. Before passing away in 2019, Ruth spent most of her 101 years sharing her energy, spirited personality, and resources with the community she loved, often opening her own home to host fundraisers for local nonprofits.
When Andy Garruto and Greg Tolve decided to organize an annual golf tournament to benefit NFSB, naming the event in Ruth's honor was an easy decision.
"When I first joined the board a few years ago, we would have board meetings at Ruth's dining room table, and Ruth would sit at the head of the table," said NFSB board member Dave Popkin, who is coordinating the event with Andy and Greg. "She was a Lifetime Trustee in every sense of the word. Even in her later years, she was interested in what NFSB was planning and wanted to contribute. She was just an extremely generous person."
The first ever Bedford Golf Classic will feature 36 two-person teams divided into nine separate flights. Teams in each flight will compete against each other in six-hole match play, with each flight champion advancing to a playoff to determine the overall tournament champion. Winners will be recognized during an awards dinner at Glen Ridge Country Club immediately following the tournament.
Sponsors of the Bedford Golf Classic include Lakeland Bank, Pro Staff Physical Therapy, Status, and Essex Cigar.
This event is just the latest example of NFSB's efforts in recent years to bring the entire community together by developing events that appeal to different people with different interests. With the recent Rock Hunger IV concert far surpassing expectations and popular events, including The Garden Party and A Night at the Races, returning this fall, the Nutley community is excited to attend and do their part to help.
"With such diverse events, we're creating a big tent at NFSB and we need everyone's support," Dave said. "We appreciate all the teams and sponsors that have signed up for the Bedford Golf Classic and invite more to get involved. Because of the pandemic, there's more demand for NFSB services across the board. These events make it possible to offer and expand these services."
Of course, the Bedford Golf Classic will celebrate its namesake, Ruth Bedford, whose impact and influence are still very much felt in Nutley today. To register or find more information about the Bedford Golf Classic, visit the event website. We look forward to seeing you at Glen Ridge Country Club on July 12!