It's the Holiday Season – in July – at Nutley Family Service Bureau!
Posted on

July 14, 2021

by

admin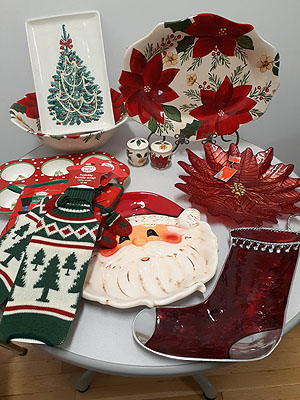 Prepare for Nutley Family Service Bureau (NFSB) to be transformed into a winter wonderland on Friday and Saturday, July 16 and 17 as we host the annual Holiday in July Sale! This year's festivities will be held outside for the first time to allow for more people to shop comfortably and find the holiday items they need. Shoppers will also be able to go inside The Shop for a wide selection of items.
"Since the pandemic, the number of donations we've received has been unbelievable," said Denise Roman, a shift leader at The Shop and an NFSB volunteer since 2012. "The community is going above and beyond to help neighbors in need, and a lot of people used the extra time at home to empty out their closets, attic, basement, and containers. It's a win-win because, for this event, we'll make everything we have available at affordable prices."
NFSB will be merry and bright for the Holiday in July Sale as shoppers jingle all the way through a collection of holiday trees, ornaments, decorations, lights, and more. We'll also have gently used or new clothes, shoes, coats, and household items, including designer brands and plenty of hard-to-find vintage treasures.
"I remember a woman at a previous event saying, 'Oh my gosh, this reminds me of my mother' when she found an antique music box," Denise said. "She bought it on the spot. Sometimes these vintage items give you chills because they bring back such wonderful memories."
Denise points out that local residents are always coming up to her, whether at The Shop, the grocery store, or someplace else in Nutley, to find out about the next sale or event at NFSB. With many people choosing not to travel this year, the Holiday in July Sale is a fun event that many in the community are excited to attend.
"This has been a difficult time for a lot of people, unfortunately," Denise said. "Many haven't had a happy holiday for quite some time. When they come to the Holiday in July Sale, they see the joy and enthusiasm of people around them and find items they need at an affordable price. The community lifts them up and takes them to a better place. It's such a wonderful event for everyone."
Peg Conca, NFSB Shop Manager has been working with volunteers for several weeks to bring the holiday items out of storage for the sale. She adds, "It's our pleasure to bring our customers additional time to enjoy searching for holiday treasures outside of the normal hustle and bustle of the winter season. We have the treasures, you will not be disappointed, so stop in and check out Holiday in July."
Whether you're looking for a singing snowman or a new pair of shoes, or you just want to come out for an enjoyable event in the middle of summer, join us for the Holiday in July Sale, Friday and Saturday, July 16 and 17 from 9 am – 3 pm, weather permitting, at Nutley Family Service Bureau!