How the "Feel Good" Nature of Volunteering Extends to Overall Wellness
Posted on

July 20, 2021

by

admin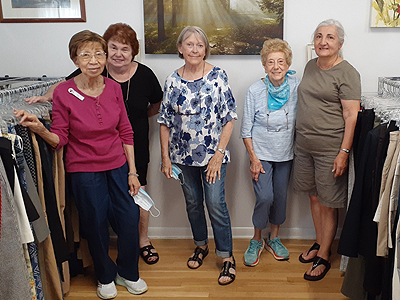 When most people think of volunteering, they focus on the "feel good" aspect of helping others and supporting a worthy cause. There's no doubt that volunteering is one of the most rewarding activities one could experience.
At Nutley Family Service Bureau (NFSB), we've also seen how the benefits of volunteering support a person's overall wellness – physically, mentally, emotionally, and socially.
"Many of the clinicians at NFSB recommend volunteering as an intervention," said Staela Keegan, MSW (Master of Social Work), LCSW (Licensed Clinical Social Worker), LCADC (Licensed Clinical Alcohol and Drug Counselor), and Clinical Director at NFSB. "For people struggling with mental illness, volunteering provides a sense of purpose and opportunities for socialization in a safe place, which has been very important during the pandemic."
Volunteering can be a lifeline when dealing with depression or anxiety, grieving the loss of a loved one, or recovering from a serious illness or injury. In addition to a sense of fulfillment, volunteering can help to create a routine and structure. It gives people a reason to get up in the morning and look forward to the day. They build friendships and increase self-esteem while helping others.
"We helped a woman with developmental disabilities who moved to Nutley to be near family," Staela said. "She ended up building her life around volunteering. She would see me for therapy and go to The Pantry or The Thrift shop to volunteer. She became isolated while quarantined during COVID but always talked about how she couldn't wait to get back to volunteering. When she finally did, she was so happy to see her friends and get back to her routine."
One of the benefits of volunteering is that if you're having a particularly difficult day and don't feel like you can volunteer, you don't have to worry about being fired or judged. You don't have the pressure of a paid job. A number of NFSB clients, however, have used volunteering as a stepping stone to a part-time or even full-time job.
"Nutley is a very giving community," Staela said. "Volunteering helps people feel connected to our community. They feel like they're part of something bigger, something good. They feel like they matter and can make a difference. These feelings can help them overcome mental and emotional struggles, which can then contribute to better physical health." Peg Conca, Pantry and Shop Manager coordinates the volunteer efforts at NFSB. She adds, "Volunteers are the thriving force behind keeping The Shop and Pantry operations running smoothly. We also rely on many volunteers to help with our special events. It makes me smile to know our volunteers feel good about the help and time they donate to NFSB; we truly appreciate all our volunteers!
The Pantry and The Thrift Shop at NFSB are always looking for more volunteers and there are plenty of opportunities to help with various events and programs. If you or someone you know is interested in learning more about volunteering at NFSB, please visit the "Volunteering" page of our website and contact us today!