110 Years of NFSB: Jim Kuchta Chronicles 30 Years of Change and Growth
Posted on

June 30, 2023

by

admin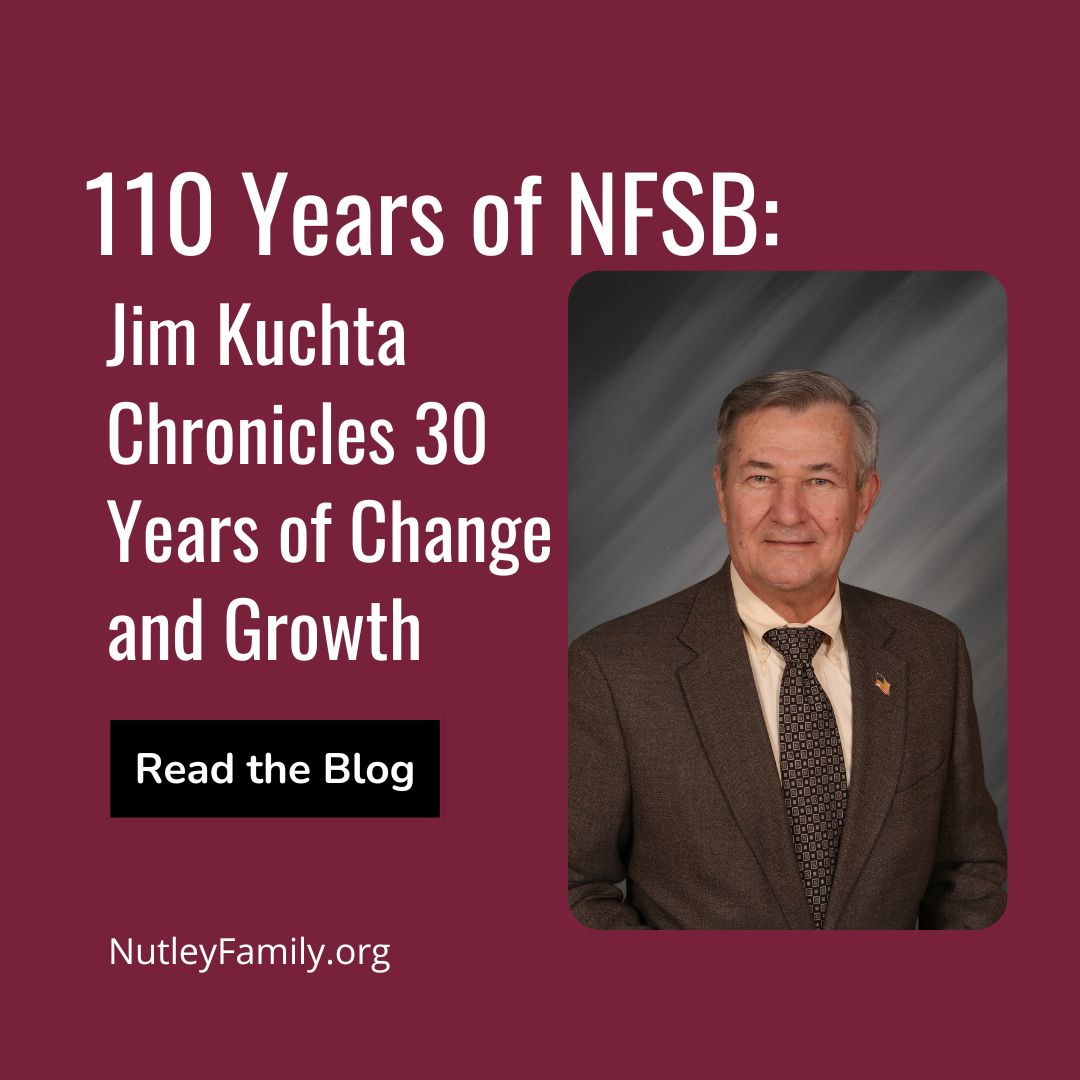 Jim Kuchta and his late wife, Valarie, were first introduced to Nutley Family Service Bureau (NFSB) when they attended the annual Charity Ball in 1982. As a veteran of the financial area of MetLife, Jim had knowledge and skills that were and continue to be very valuable to NFSB.
Within a few years, Jim was asked to join the Board of Trustees and has never looked back… until now.
As the current Treasurer of the NFSB Board of Trustees, two-time Past President, and long-time NFSB Board member, Jim has seen the organization navigate ups and downs, significant changes in programs and leadership, and periods of crisis.
Although NFSB has faced its share of challenges, there has never been a time when NFSB stopped serving the people of Nutley. And there has never been a time when the people of Nutley stopped supporting each other.
Major Organizational Transitions of the Last 30 Years
At one point, Jim estimates that United Way supplied more than half of all funds to NFSB. After a scandal in the early 1990s, the United Way changed their funding formula and made significant cuts, which led to a rough period for NFSB. Jim was President of the Board from 1994-1996.
"From an operational point of view, there was little impact," Jim said. "The biggest problem involved infrastructure and maintaining our buildings. There was even talk about the township taking over 155 Chestnut. Fortunately, the township stepped up and provided more funding, and we started a fundraising committee. That transition from dependency on the United Way to fundraising was critical to sustaining the organization, with the township's help."
The next major transition began around 2002 when Jim was once again serving as President of the NFSB Board. NFSB was selected by Partners in Philanthropy for an evaluation that would provide the organization with recommendations for improving operations and fundraising.
These recommendations included bringing the organization's technology into the modern era. Jim had retired at that point and had more time to devote to overseeing technological upgrades.
"We bought new computers and a server, and we wired 155 Chestnut with Cat5 cabling," Jim said. "The building lent itself to upgrades because it has the right ceiling for cabling and the back room for the server. We also invested in special software for the clinicians and electronic billing. There was a lot of resistance to change, but the upgrades were needed."
During this time, revenue and fundraising were not keeping up with rising costs and NFSB was facing serious financial difficulties. This led to another transition around 2007. Board leadership brought in a new Executive Director Felicia Gardner who, according to Jim, brought the right people to improve the clinical side of the organization. This transition to a new way of operating was instrumental to keeping NFSB viable.
NFSB faced a new challenge about 10 years later when the American Red Cross was planning to shut down the Food Pantry. This happened just after Board President Mary Graves and another new Executive Director, Eileen Painter, developed a new strategic plan that said we should expand our social services to the community.
After a thorough analysis, the decision was made to purchase and renovate 169 Chestnut so the building could house a pantry operated by NFSB. This was one of the biggest changes in the 110-year history of NFSB, given the resources and renovations required to assume control of the Food Pantry.
"During each transition since I've been a member of the board, we always had the right person with the right skillset for that moment in time in the Bureau's history," Jim said. "Katherine (Carmichael, current NFSB Executive Director) kept us going through the pandemic and has taken us to the next level in terms of operations, processes, program improvements, and expansion of the Mental Health Center. Again, she's the right person at the right time."
Reaching a Point of Financial Stability and Growth
As a member of the Board of Trustees for more than 35 years, Jim has more experience analyzing and presenting the organization's financials than most.
"You have to break down the financials into three parts – cash flow, emergency funds, and investment in the organization," Jim said. "You need at least six months of operating money sitting in the treasury to weather a storm. At one point, we were close to not being able to weather the storm. Today, we're back on really solid financial footing."
Of course, the generosity of the Nutley community has been largely responsible for sustaining NFSB, especially during times of crisis. From monetary donations and stocking the Food Pantry to the volunteers who staff the Pantry, the Thrift Shop, and all NFSB events, the people of Nutley have always been there for each other and NFSB.
Reflecting on 40 Years with NFSB
"I've always been involved in stuff, whether it was the PTO, the Board of Education, or my church," Jim said. "I grew up in that kind of environment. When I moved to Nutley in 1975, my neighbor got me involved in the Adult School Board. I was involved in the Health Advisory Board. Nutley is a special town where citizens get involved and make a difference."
Jim has seen significant changes in NFSB operations, funding, programs, and leadership. As a member of the Board leadership team, he was there when NFSB was on the brink, and he is there today to see NFSB having a greater impact than at any point in its 110-year history.
For this to continue, Jim urges younger generations to step up.
"Succession planning is so important, not just for me, but for any leadership position," Jim said. "Whether you're a person with a legal background, technical background, clinical background, or financial background, there's a place for you at Nutley Family Service Bureau. It's so rewarding to be able to apply your knowledge and passions to serve your community."