Nutley's Braden Somers and NFSB Take a Bite Out of Pet Food Insecurity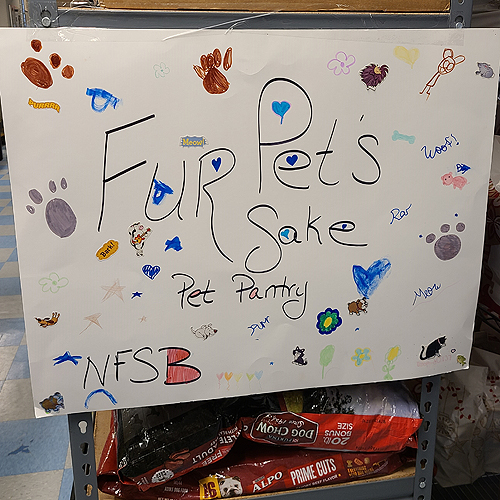 If there's one thing we've learned about Nutley High School sophomore Braden Somers, it's that she doesn't like to sit around and wait for change to happen.
As a sixth grader pursuing her Girl Scouts Silver Award, Braden led the charge to initiate an ordinance in Nutley that would ban single-use plastic bags.
As a seventh grader participating in Nutley Public Schools' Trep$ Marketplace, Braden founded Somers 27 Soap Co., which sells goat milk-based soap bars in eco-friendly, plastic-free packaging. That business is still going strong, by the way.
And as Braden was wrapping up her freshman year at Nutley High School, research for her Girl Scouts Gold Award project inspired her to tackle pet food insecurity.
"Food pantries have seen a 200 percent increase in demand since the pandemic," Braden said. "Pets should be able to enjoy a life of love and care, but if families don't have enough to eat themselves, they probably don't have enough food for their pets."
While volunteering during food distributions at NFSB, Braden learned that about 40 percent of clients have pets. She quickly went to work with Pantry Manager Peg Conca to create the Fur Pet's Sake pet pantry.
How the Fur Pet's Sake Pet Pantry Works
Residents drop off food at local businesses, and Braden picks up the donated items and brings them to The Pantry each week. Current drop-off locations are Nutley Wine Shop (558 Franklin Avenue) and Noelle's Grooming Salon (188 Prospect Street). Braden also created an Amazon Wish List of items needed to stock Fur Pet's Sake. In addition to food, the Nutley community has also donated pet toys, collars, and even pet clothes!
During food distribution weeks at The Pantry, clients with pets can get food and treats for their dogs, cats, birds, hamsters, rabbits, and other pets.
For her Girl Scouts project, Braden is required to track how many people are being helped and what they receive. On average, about 50 pet food items are given away every other week.
"When I went to The Pantry over the summer, return clients would come up to me with big smiles on their faces," Braden said. "They would say, 'Thank you so much for starting this. It's such a great idea.' I'm sure the pet pantry will be here long after I'm done with my project and when I go away to college. I hope it inspires other Girl Scouts to do something similar."
The Reward of Volunteering
Braden started volunteering long before Fur Pet's Sake took shape. Helping others is just part of who she is.
"I love helping people," Braden said. "Whenever I help people, they always seem happier. Seeing them happy and grateful makes me happy."
NFSB is always looking for volunteers to help with events and assist in The Pantry and The Shop. "It's a great opportunity for young people like Braden who are looking for community service projects that make a real-world impact in their local community," said Katherine Carmichael, NFSB Executive Director. Youth aged fourteen and over can volunteer without a guardian at NFSB. Youth 13 and under must be accompanied by a guardian to volunteer. Peg Conca, NFSB Pantry and Shop Manager adds, "Youth groups are also welcomed to schedule time to volunteer and we are always interested in talking with scouts about Gold Award and Eagle Scout projects." For more information contact Peg Conca, Pantry and Shop Manager at mconca@nutleyfamily.org.
If you or someone you know would like to find out about volunteering at NFSB, you can go to our website and fill out the appropriate forms or attend one of our monthly volunteer open houses to learn more about current volunteer opportunities available. Our next Volunteer Open Houses are scheduled for Monday, May 9th at 11am and Tuesday, May 17th at 6pm. We appreciate your interest in volunteering and supporting NFSB!