The Grieving Process Is Probably Longer and More Complex than You Think
Posted on

June 1, 2021

by

admin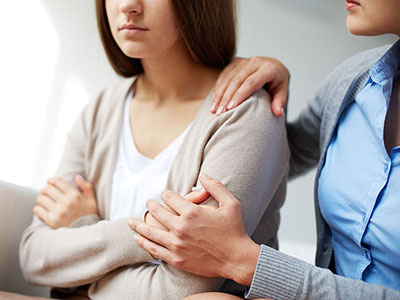 Just months before the pandemic, Anne came to Nutley Family Service Bureau (NFSB) because she was having a hard time overcoming the death of her husband of 40 years. She has no children, so losing her husband left every area of her life empty.
Anne had tried a grief group through a hospital but felt that she needed more than an environment where people grieving loved ones share their stories.
"I think grief groups are more helpful for people when they're further along in the grieving process," said Tricia Politi, MSW (Master of Social Work), LCSW (Licensed Clinical Social Worker) at NFSB. "At that point, they've gained knowledge about grief that can help make progress and feel comfortable talking to others about their loss.
Anne sensed that people were judging her for her grief and believed individual counseling would allow her to say everything she wanted to say without judgment from herself or others. Tricia provided Anne with a space to tell her stories, cry, and express her emotions. Anne learned that grief is a longer process than she thought, so there was nothing wrong with the way she was feeling.
Tricia also helped Anne explore ways to reenter life in a productive way. Anne didn't have a large circle of friends, a situation made worse by the pandemic. She eventually started volunteering, which allowed her to meet new people, including several widows.
Perhaps the greatest benefit of volunteering was that it gave Anne a sense of purpose. One of the challenges seniors often face when grieving is that they don't feel valued or useful. In Anne's case, her husband had been ill in the years prior to his passing. In addition to spending so much time with her husband, Anne's primary purpose was to care for her husband.
Volunteering gave Anne a reason to leave the house and added structure to her day. She also feels fulfilled when she volunteers, knowing her volunteer work makes a difference in people's lives.
Today, Anne is still dealing with deep loneliness and has a long way to go, but she's making progress. She is learning how to deal with her grief and is motivated to enjoy her life without judgment or guilt.
The Truth About Grief
A major reason why so many people struggle with grief is the misconception about how long the grieving process lasts.
"People tend to give you a grace period when someone dies," said Tricia Politi, MSW (Master of Social Work), LCSW (Licensed Clinical Social Worker) at NFSB. "Once you reach a certain point, usually around the six-month mark, they feel you should have moved on. Recent studies show the grieving process is much longer."
Tricia points out that this assumption is based on old thinking and old teachings about mental illness, which say grief that extends beyond six months was considered cause for concern. Recent studies show the grieving process is much longer – typically about four years.
"You never stop missing one, but after four years, most people have accepted the loss and figured out how to live without their loved one," Tricia said. "This is a gradual process. Over time, you begin to do more, cry less, and remember your loved one with fondness and appreciation rather than pain."
Psychoeducation is an essential component of the services we offer at The Center at NFSB. Clients find comfort when they learn that their feelings and experiences are not signs that something is wrong with them. They let go of guilt about being the survivor. They give themselves permission to grieve, reserve judgment on themselves, and learn to accept that a loved one is gone. Some patients see grieving as a way to honor their lost loved one because it's not something they can just move on from after a few months.
"When I see a new client who's grieving, I see myself as their companion during the process," Tricia said. "I listen to their stories and provide comfort. We discuss how they feel and what others are saying. I help them understand the truth about grief so they don't judge themselves based on incorrect information. Them we discuss how to approach life in a way that feels good and purposeful. Grief is a long, complex journey, but we're here to help when you need us."
If you or a loved one is struggling with grief, call NFSB at 973-667-1884 for more information about the services we provide at The Center.