"When People Receive Food and Smile, It Makes My Heart Happy"
Posted on

June 9, 2021

by

admin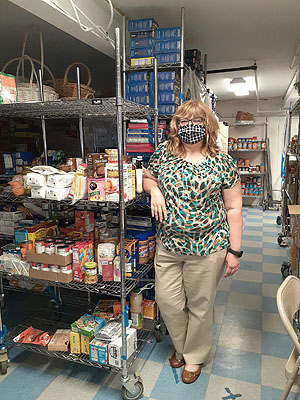 Joan Roake's daughter was a volunteer at The Pantry at Nutley Family Service Bureau (NFSB) when the COVID-19 pandemic hit. At this point, many of the senior volunteers had to take a step back due to safety concerns, and her daughter was asked to help. That's when Joan started volunteering at NFSB.
"Because my daughter was planning to volunteer in March of 2020 when the pandemic was still new, I wanted to see where she was going and what she would be doing myself," Joan said. "I decided to volunteer, too. My daughter and I spent the summer helping with food distributions, the school lunch program, and the backpack distribution."
Joan started working part-time at The Pantry in October and came on full-time in January of 2021. Today, Joan assists with a variety of activities at The Pantry, including food distributions, organizing volunteers, keeping track of food distribution statistics, and case management. Because she interacts with clients so frequently, Joan sees firsthand how much of a difference NFSB makes in the lives of Nutley residents who need help.
Here are just a few examples of the experiences that have meant so much to Joan.
"A gentleman was having a rough time financially and came to The Pantry for food," Joan said. "We noticed a big crack in one of the lenses in his eyeglasses, so we were able to connect him with a service to replace the lens and provide him with the food he needed."
"A single mom lost almost all of her income during the pandemic because her workplace shut down," Joan said. "A friend referred her to us and she started taking food distributions. Between the food we provided, unemployment, and her children working, she was able to pay her bills and avoid being evicted. She accepts whatever we provide with gratitude and constantly tells us that we're a big reason why she's not homeless."
"We received a call from an elderly woman" Joan said. "She can't get to The Pantry so we deliver food for her and her cats. She said her cats are the sunshine of her day and her reason for pushing forward every morning, so we feed them, too. We've made sure she's on the list for senior housing and helped her apply for SNAP food assistance. We also coordinated with The Thrift Shop to get her a warm winter coat and made sure she had a ride to get her COVID vaccine."
These and other experiences provide constant reminders of the impact made by volunteers at The Pantry at NFSB. Each day is more rewarding than the next. For Joan, it makes her heart happy.
"I love the camaraderie of all the volunteers," Joan said. "They're here because they want to give and give and give, and they do. We can't necessarily give people everything they need in life, but at least they have full bellies, and that's a start."
The Pantry and The Shop at NFSB are always looking for more volunteers to help meet the needs of the Nutley community. To learn more about volunteering opportunities, please visit the Volunteers page or call 973-667-1884.