NFSB Is Proud to Offer Counseling and Support for the LGBTQ Community
Posted on

June 20, 2023

by

admin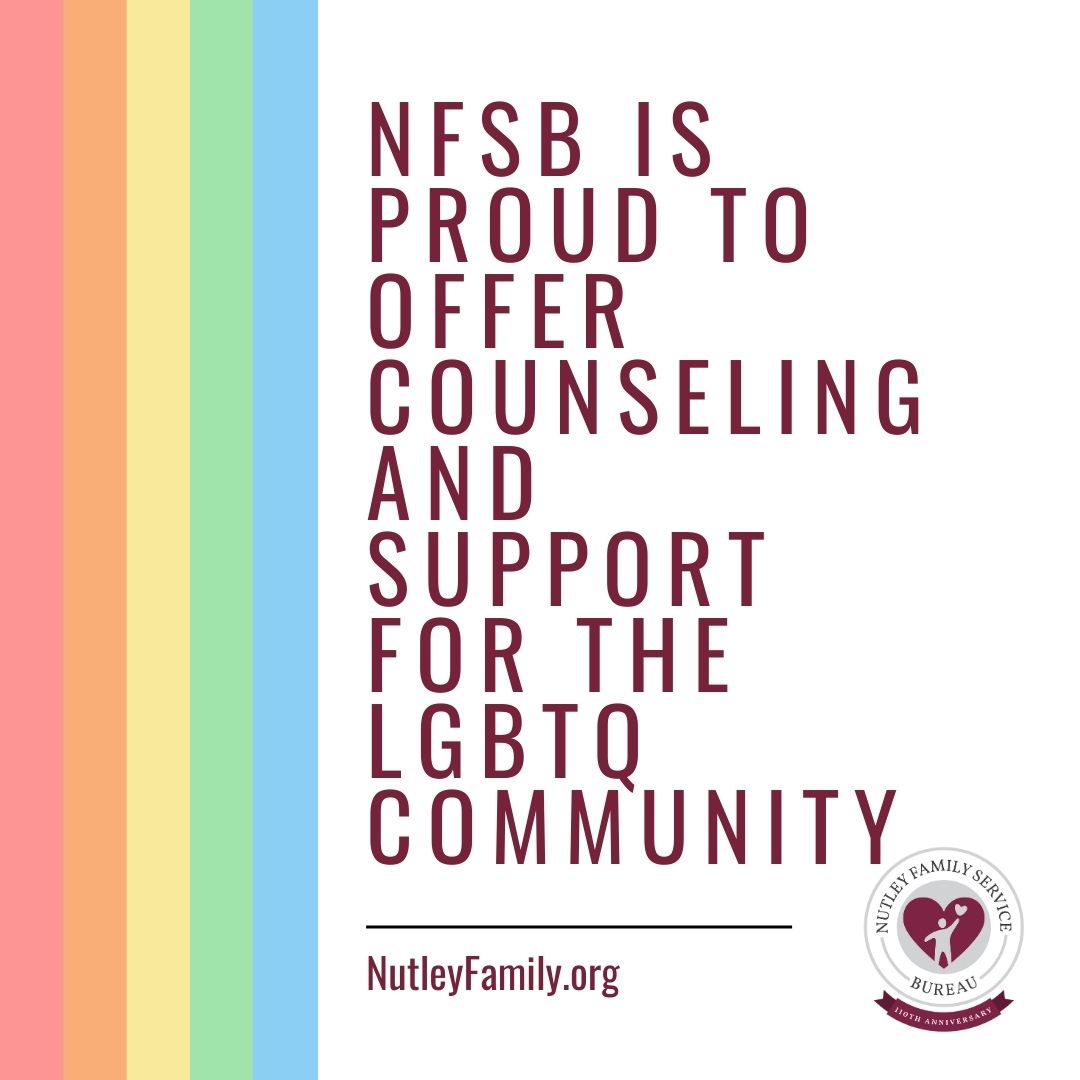 As we continue to celebrate Pride Month, Nutley Family Service Bureau (NFSB) wants to remind the community of our support for inclusion and equality. All are welcome to our Mental Health Center, Food Pantry, Case Management and all other programs we provide, regardless of sexual orientation, gender identity, or gender expression.
The NFSB Mental Health Center provides a safe space where the LGBTQ community can come to discuss feelings and struggles that may be difficult for one to process on their own.
"We often see LGBTQ clients who have a mental health diagnosis of depression, anxiety, or other disorders," said Staela Keegan, MSW, LCSW, LCADC, Senior Clinical Supervisor at NFSB. "In many cases, they're trying to cope with that while also working through their gender identity at the same time. Mental health struggles can be a byproduct of that journey. We want people to know that we're here to help."
We encourage anyone experiencing stress or uncertainty to consider counseling. We can also connect you with additional resources, support, and educational materials so you can make informed decisions.
Supporting the LGBTQ Community
Parents have brought children to NFSB for counseling because the parent said the child was depressed and thought there was something wrong with them. During therapy, the child was able to open up to the counselor and gain the confidence to come out to their family with the counselor's support. Counseling helped the entire family create open lines of communication and better understand each other's perspective.
We also have experience counseling transgender clients who were in the process of transitioning through gender-affirming treatments. Medical treatment can bring not only a rollercoaster of emotions, but also physical pain and discomfort. Our clinicians and staff can help you cope with these challenges as you navigate this process.
"We've worked with several transgender clients whose families weren't supportive," Staela said. "With better communication and understanding, they often reach a place of acceptance. Unfortunately, it's not always a happy ending, so we can help you move on when necessary and form a support network around you."
A Clear Message
Our message to the LGBTQ community is simple. We believe love is love. We believe in inclusion and equality. We're here for you. And we're grateful to be able to provide a safe space where you'll be respected, heard, and supported.
"Counseling helps," Staela said. "Nothing you could say would be new to us or surprise us. There's nothing wrong or unusual about negative feelings or even physical difficulties you may be experiencing. You don't have to work through these challenges alone, especially if you're not receiving the support you need at home."
If you'd like to schedule an appointment, please contact the Mental Health Center at NFSB by calling 973-667-1884. Immediate appointments are available and we'll always respect your privacy.
In the next article, we'll discuss how counseling can help families of LGBTQ people understand their loved ones and maintain or rebuild strong relationships.