Nutley Family Service Bureau Brings Back Rock Hunger Benefit
Posted on

May 24, 2021

by

admin
Published by Nutley Neighbors, June 2021 –
Submitted by Emma Cortese, Board of Trustees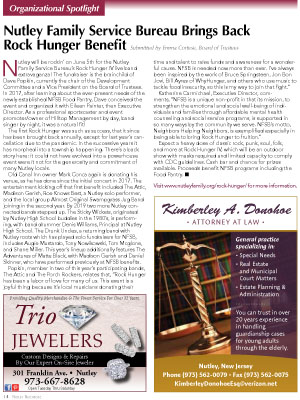 Nutley will be rockin' on June 5th for the Nutley Family Service Bureau's Rock Hunger IV live band extravaganza! The fundraiser is the brainchild of Dave Popkin, currently the chair of the Development Committee and a Vice President on the Board of Trustees. In 2017, after learning about the ever-present needs of the newly established NFSB Food Pantry, Dave conceived the event and organized it with Eileen Painter, then Executive Director. As a professional sportscaster and event promoter/owner of Hilltop Management by day, band singer by night, it was a natural fit!
The first Rock Hunger was such as success, that it since has been brought back annually, except for last year's cancellation due to the pandemic. In the successive years it has morphed into a township happening. There's a back story here: it could not have evolved into a powerhouse event were it not for the generosity and commitment of many Nutley locals.
Old Canal Inn owner Mark Conca again is donating his venue, as he has done since the initial concert in 2017. The entertainment kicking off that first benefit included The Attic, Madison Gerish, Roe Knows Best, a Nutley solo performer, and the local group Almost Original Swampgrass Jug Band joining in the second year. By 2019 two more Nutley connected bands stepped up. The Sticky Wickets, originated by Nutley High School buddies in the 1980's, is performing, with band drummer Denis Williams, Principal at Nutley High School. The Drunk Uncles, a returning band with Nutley roots which has played solo fundraisers for NFSB, includes Augie Mustardo, Tony Nowikowski, Tom Mcglone, and Shane Miller. This year's lineup additionally features The Adventures of Matte Black, with Madison Gerish and Daniel Skinner, who have performed previously at NFSB benefits.
Popkin, member in two of this year's participating bands, The Attic and The Porch Rockers, relates that, "Rock Hunger has been a labor of love for many of us. This event is a joyful thing because it's local musicians donating their time and talent to raise funds and awareness for a wonderful cause. NFSB is needed now more than ever. I've always been inspired by the work of Bruce Springsteen, Jon Bon Jovi, Bill Ayres of WhyHunger, and others who use music to tackle food insecurity, so this is my way to join that fight."
Katherine Carmichael, Executive Director, comments, "NFSB is a unique non-profit in that its mission, to strengthen the emotional and social well-being of individuals and families through affordable mental health counseling and social service programs, is supported in so many ways by the community we serve. NFSB's motto, Neighbors Helping Neighbors, is exemplified especially in being able to bring Rock Hunger to fruition."
Expect a heavy dose of classic rock, punk, soul, folk, and more at Rock Hunger IV, which will be an outdoor show with masks required and limited capacity to comply with CDC guidelines. Cash bar and chance for prizes available. Proceeds benefit NFSB programs including the Food Pantry.
Visit www.nutleyfamily.org/rock-hunger/ for more information.