Rock Hunger IV: "An Awesome Way for NFSB to Connect with the Community"
Posted on

May 13, 2021

by

admin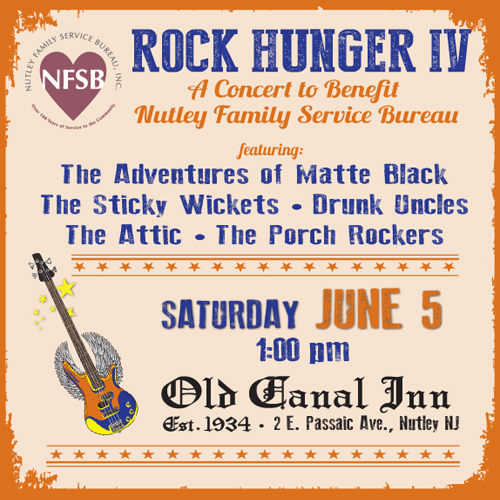 After a one-year hiatus, Rock Hunger is back! Rock Hunger IV, an outdoor concert to benefit the Nutley Family Service Bureau (NFSB), will be held Saturday, June 5 at 1 pm at the Old Canal Inn, 2 East Passaic Avenue in Nutley, NJ. This year's lineup of bands is the biggest ever, featuring The Attic, The Adventures of Matte Black, Drunk Uncles, The Sticky Wickets, and The Porch Rockers.
One of the most enthusiastic supporters of Rock Hunger from day one has been Erin Ryan. Although Erin and her family have temporarily relocated to the Netherlands, she continues to participate on the NFSB board in an ex officio capacity. She started volunteering about five years ago after taking a tour of NFSB's facilities with her children's school's PTO. It wasn't long before she met Rock Hunger organizer Dave Popkin and discovered his band, The Attic.
"I'm a big fan of The Attic and The Adventures of Matte Black, and I can't wait to see Dave's new band (The Porch Rockers)," Erin said. "Madison Gerish (lead singer of The Adventures of Matte Black) has a voice that's like a combination of Amy Winehouse and Janis Joplin. She's such a great talent. I saw them for the first time at Rock Hunger!"
The first three Rock Hunger concerts raised nearly $20,000 for NFSB. From Erin's perspective, the success of Rock Hunger can be attributed to different groups of people attending the event for different reasons but ending up with a shared purpose to support NFSB.
"The whole event just has a great vibe," Erin said. "You have people who go to Rock Hunger to support NFSB and then discover these great bands. Each of the bands has a following, who go to see their favorite bands and then learn about NFSB. People from the Nutley community enjoy a night out – your neighbors, parents and teachers you know from school, people from local businesses. And it all benefits such an incredible organization."
Given the lack of face-to-face interaction and live entertainment during the past year, Rock Hunger IV promises to be a welcome night out and a long-awaited opportunity to blow off some steam in support of a worthy cause.
"Rock Hunger is exactly the opposite of a more traditional fundraiser," Erin said. "You watch live music at The Old Canal Inn, a great venue with a great beer selection and great bartenders, and learn about a local organization doing such wonderful work. It's an awesome way for NFSB to connect with the community."
Although Erin is currently living abroad, she continues to be one of Rock Hunger's biggest fans and looks forward to watching videos and hearing stories about the event from friends who attend.
"As much as I will miss being there this year, I'm just so glad for the Nutley community and the organization that Rock Hunger is back on this year," Erin said. "I look forward to catching Rock Hunger V next year!"
To see videos from previous Rock Hunger concerts and purchase tickets, check out the Rock Hunger IV web page on the NFSB website. We'll see you at the Old Canal Inn on June 5!