Why Loss and Grief During the Pandemic Are So Difficult
Posted on

March 11, 2021

by

admin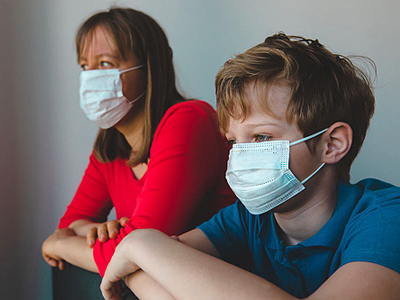 More than 500,000 people have died from COVID-19 in our country. With the constant political bickering during the pandemic, people often gloss over the staggering number of lives lost.
With the loss of a loved one comes grief. During the pandemic, however, the grieving process has been disrupted.
The purpose of a funeral or other end-of-life ritual is to gather with family and friends, express your thoughts and feelings, accept the fact that a loved one has passed, say goodbye, and face the pain that comes with loss.
In most cases, these rituals have been impossible due to COVID-19. Many people have been forced to grieve in isolation with no support system and no closure.
Of course, death is just one form of loss. People have lost jobs and the ability to interact with co-workers at the office. Perhaps they couldn't spend the holidays with family or celebrate graduations, proms, or milestone anniversaries. Weddings were postponed or downsized. They couldn't participate in many activities they enjoy.
Just about everyone has experienced some form of loss and are grieving as a result.
Under normal circumstances, you would go through a period of grief and return to normal, everyday activities. Grief is typically finite. With the coronavirus, grief is ongoing. Nobody knows for sure when it will end and you might not feel like you're making any progress.
This kind of loss and ongoing grief can cause anxiety, sadness, anger, and even depression.
To make matters worse, many coping mechanisms have been lost as well. You can't go to the gym. Opportunities to gather with friends or go away for a weekend have been extremely limited.
As difficult as grief and loss have been during the pandemic, there is still hope.
Coping and Healing During the Pandemic
At Nutley Family Service Bureau (NFSB), we were helping Kathy who was in the early stages of recovery from alcoholism. One of her coping skills was going to the gym. The gym closed, she was forced to work from home, and support group meetings were temporarily canceled, so she spent a lot of time in isolation. With his stress reliever and support system lost, she eventually relapsed.
"Part of Kathy's therapy was to come up with alternative coping mechanisms to overcome stress while in isolation," said Staela Keegan, MSW, LCSW, LCADC, Interim Director of Clinical Services and Programming at NFSB. "Her clinician also provided psychoeducation about the relapse process. She was able to recreate her workouts at the gym by running outside and buying exercise equipment, and she used technology to help rebuild her support system."
Recovery is a lifelong journey and challenges lie ahead, but Kathy is on the right path.
If you know someone experiencing grief and loss, check in with them on a regular basis. Make sure they're taking care of themselves, physically and emotionally. Proper self-care can help any mental health condition. Offer to spend time with them in a safe environment. If activities and coping mechanisms have been taken away by the pandemic, help them find new ones.
If grief and loss have caused deeper issues that aren't getting any better, seek professional help. Contact NFSB to learn more about our services and schedule an appointment.