For Denise, Volunteering at the Thrift Shop Is a Source of Fulfillment
Posted on

April 21, 2021

by

admin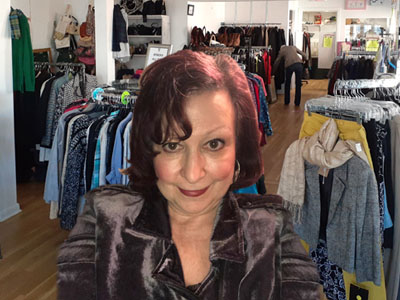 If you were to say that volunteering is in Denise Roman's DNA, that would not be an exaggeration. Denise started volunteering when she was just 17 years old.
A Nutley resident for 22 years, Denise has volunteered for organizations in Nutley and throughout the county, from supporting VFW Post 493 as auxiliary chaplain, to Our Lady of Mount Carmel Church as youth director, to the St. John's "Feed the Hungry" program.
When Denise retired from the Department of Justice in Newark after 40 years in 2012, she decided to stop by the Nutley Family Service Bureau (NFSB) Thrift Shop and submit an application.
"I thought I could be a good resource because of my contacts in town and the county from all my years of volunteering," Denise said. "Whether I'm volunteering in the shop, helping people clean out their homes, or asking people to donate clothing or monetary gifts, I think I've been able to help in a lot of different ways. It's such a wonderful organization. The people are so giving and understanding of others. It's a great place to be."
Today, Denise is a shift leader at the NFSB Thrift Shop, working three days per week and one Saturday per month. She greets customers, helps them find what they need, and looks for ways to raise money for NFSB. Her favorite part of volunteering, however, is getting to know the people who walk into the shop.
"Some people are very sad and upset when they walk through the door," Denise said. "If someone seems despondent or angry, I try to lift them up. I try to find out why they feel a certain way. Usually, the struggle isn't just financial. Someone may have had a rough childhood or could be working through other issues."
The most rewarding part of volunteering for Denise is making people smile and seeing a positive change in their outlook, even if only for a little while.
"When you take the time to talk to people, you learn about their lives, challenges, and talents," Denise said. "Sometimes they just want to know someone is there for them, but they're slow to trust people. Over time, I've become friends with people who come to the shop. Some have approached me at the grocery store and thanked me for what I've done for them."
That's Denise's goal each day, whether she's volunteering or not – to help people and make a difference in someone's life. That could involve simply listening to someone's story or driving senior citizens to get their COVID-19 vaccinations. If it makes someone's life easier or makes them feel better, it's time well spent.
"I'm a very spiritual person and I truly believe volunteering is a gift God has given me," Denise said. "I love doing it. I love helping people, making connections, and getting other people to volunteer. It's a win-win situation. I help someone and my heart is full because of that."
NFSB is extremely grateful for the contributions of Denise Roman to our mission, the Thrift Shop, and, most importantly, the people we serve. If you would like to learn more about volunteering opportunities at NFSB, visit the Volunteers page on our website, stop by the Thrift Shop or Food Pantry, or call us at 973-667-1884.