How Volunteers Keep The NFSB Pantry And Thrift Shop Running Smoothly
Posted on

April 14, 2021

by

admin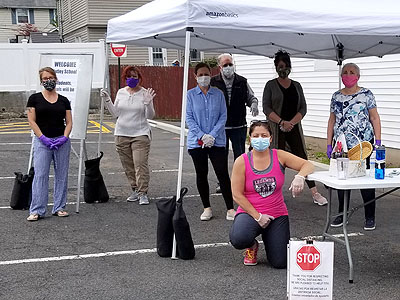 April is National Volunteer Month. It's a month dedicated to celebrating volunteerism and honoring those who give so much of themselves to help others. At Nutley Family Service Bureau (NFSB), the Food Pantry and Thrift Shop rely heavily on volunteers to support the services that are provided to the Nutley community.
"Volunteers gave over 12,000 hours of service to NFSB this past year," said Peg Conca, Manager of the NFSB Pantry and Thrift Shop. "Volunteers are the heart and soul of The Pantry and The Shop. We couldn't do it without them."
Let's take a look at how volunteers step up to the plate each day at the NFSB Pantry and Thrift Shop to keep both operations running smoothly.
Volunteering at The Pantry
Food insecurity has become an even more serious problem across the country since the pandemic hit more than one year ago. Any Nutley resident who is experiencing food insecurity is eligible for NFSB Pantry enrollment. We rely on our volunteers to make sure food gets in the hands of those who need it.
Food distributions are held biweekly on Wednesdays from 2 pm to 5 pm and Thursdays from 10 am to 1 pm. COVID-19 has made these distributions a bit more challenging.
"Distributions have taken place outside since March of last year," Peg said. "This requires more volunteers because everything needs to be set up in the parking lot. We have up to 10 volunteers helping for each distribution."
When COVID restrictions are relaxed, NFSB plans to transition food distribution back inside and offer appointments to clients.
Volunteer drivers pick up food and bring it back to the Pantry. Volunteers then inventory all food, set expiration dates, and place food on shelves. On distribution days, produce and breads are sorted by volunteers as items arrive. Volunteers place food in distribution bags and bring bags to cars for those who need help.
At the end of each distribution, volunteers break down the outdoor setup and bring everything inside. Between distribution weeks, food is delivered to 65 seniors at our senior building. Peg estimates that about 95 percent of Pantry-related tasks are handled by volunteers.
Volunteering at The Thrift Shop
The NFSB Thrift Shop has been open on a limited basis during the pandemic and plan to fully reopen soon, offering local families affordable clothing, footwear, accessories, linens, housewares, small furniture, and other items. Our Thrift Shop first opened its doors in 1933!
Volunteers are responsible for processing donated items that have been dropped off in our shed. They go through each item, determine which items can be sold, price those items, and place them on shelves on the sales floor.
While the Thrift Shop is open, one volunteer operates the cash register, two volunteers assist customers in the shop, and two to four volunteers process items in the sorting room.
"There are a total of 11 shifts per week with a minimum of five volunteers per shift," Peg said. "Over the course of the week, NFSB relies on 55 volunteers to keep the Thrift Shop running."
NFSB also operates an online Thrift Shop through Ebay. Several volunteers accept items, research and take photos of items, list them online, and pack and ship items when they're sold.
"We would like to take this opportunity to thank all our volunteers for their time and dedication to the NFSB mission," said Katherine Carmichael, Executive Director of NFSB. "Your efforts allow us to make a difference!"
More Volunteering
Volunteers graciously donate their time, compassion, and expertise to execute fundraising events throughout the year. Community partners including civic organizations and local business are vital to the benefit efforts as well.
Of course, NFSB is always looking for more volunteers. If you'd like to learn more, visit the volunteer page on our website and fill out an application, or feel free to give us a call or stop by and submit an application in person.
"If you find yourself with extra time and need a 'pick me up,' come join our volunteer team," Peg added. "We offer a friendly and socially rewarding experience. Many of our volunteers have formed strong friendships as a result of their time together at NFSB."