Homebound Senior Finds Friends and Support in Nutley: An NFSB Success Story
Posted on

December 20, 2022

by

admin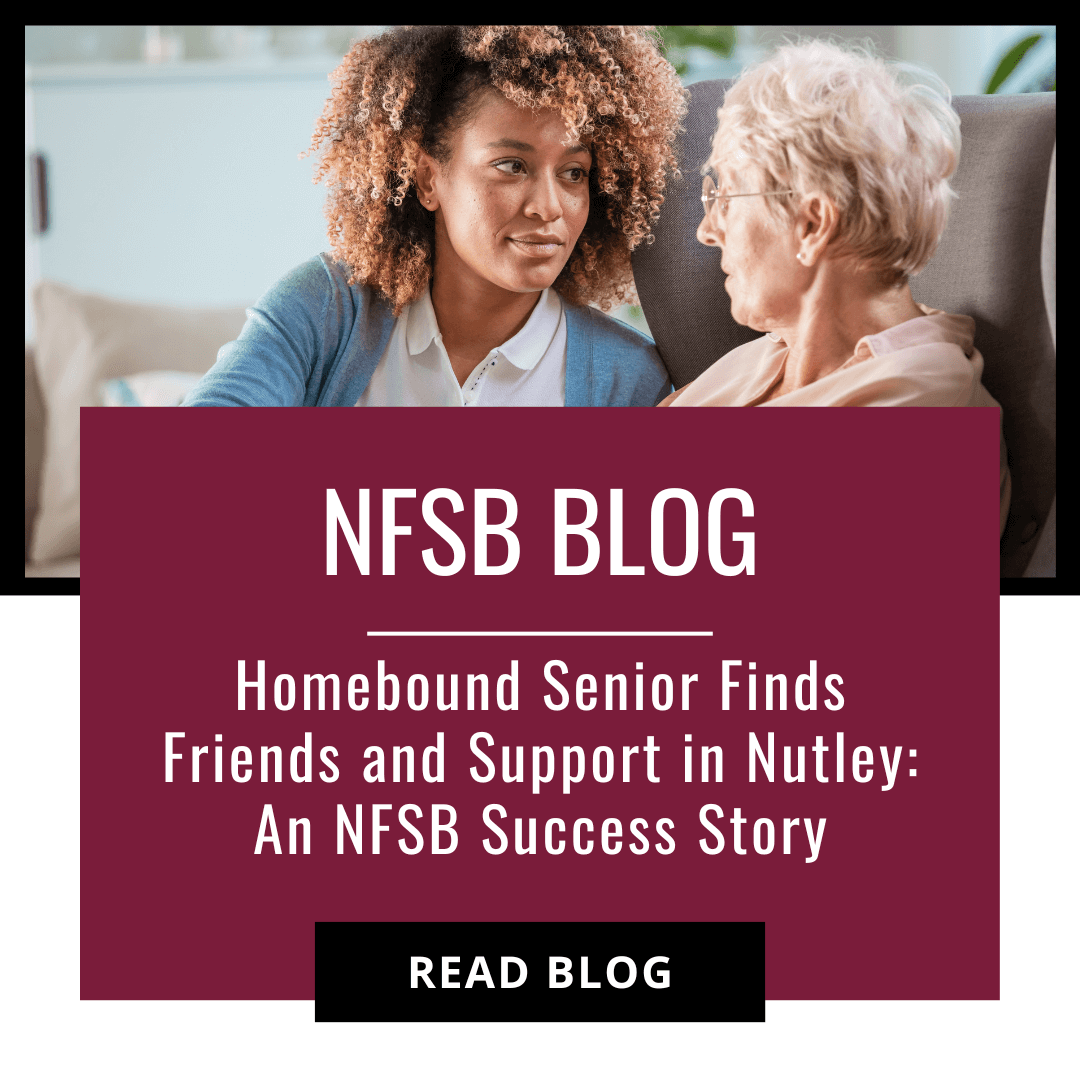 When "Mrs. Smith" moved to Nutley, she was a bit nervous. She didn't have any family or friends in the area. As a homebound senior with mobility challenges, basic daily functions were a challenge, much less making new friends at the senior center that she now called home.
Mrs. Smith had a home health aide at her previous home to help her with day-to-day activities but wasn't sure how to go about finding assistance in her new home.
She contacted case management at Nutley Family Service Bureau (NFSB) for help.
Case Management Coordinator Molly Clark, MSW visited Mrs. Smith at her home for an assessment. Molly founds that her most urgent need was a home health aide who could assist with personal care and basic tasks around the home.
"She was missing out on social activities because she would spend an entire day on things like laundry and cleaning," Molly said. "I called her insurance company and tracked down the person assigned to her case. At that point, I had to explain that she stopped with a home health aide because she moved, not because she didn't need help."
Molly had Mrs. Smith recertified in Medicaid and made sure her address was updated. At that point, Molly was able to arrange for a home health aide to visit a few times a week.
Mrs. Smith received assistance with activities of daily living (ADLs), such as dressing, eating, bathing, and personal hygiene, as well as instrumental activities of daily living (AIDLs), such as housework, laundry, shopping, transportation, and food preparation.
Not only did the home health aide help make daily living easier and less stressful, but her services gave Mrs. Smith the time and confidence to attend events in her building with other seniors and build a new support system. Molly also applied for transportation assistance through Access Link on Mrs. Smith's behalf so she wouldn't have to worry about getting to and from her doctor's appointments.
While assisting Mrs. Smith with her Medicaid forms, Molly realized that Mrs. Smith was eligible for benefits that would reduce her electric and cable costs.
"She still had a credit with PSE&G through the Low-Income Home Energy Assistance Program (LIHEAP) from her last apartment, so I called and had the credit transferred to her new address," Molly said. "She also qualified for savings on her cable bill through the Affordable Connectivity Program (ACP)."
Fortunately, plenty of help is available to Mrs. Smith through state and federal social services and assistance programs. The sad reality for many people in need is that they don't know who to call, what information they need to provide, and how to submit applications to receive such benefits. With Molly's help, Mrs. Smith has been able to get acclimated to her new community with less physical, emotional, and financial stress.
"As with all our clients, I check in with her once a month, and she's doing great," Molly said. "I've also checked in with her son in a different part of the country several times so we can provide an all-around support system that works together for her. She's very grateful for her home health aide, who is the same person since day one. Everything is unpacked, she's settled and comfortable, and she's building a circle of friends. It's not easy moving, especially at this stage of life, but I'm glad we've been able to help her find happiness in her new home."