How NFSB Is Addressing the Root Cause of Food Insecurity in Nutley
Posted on

June 3, 2022

by

admin
June is Hunger Awareness Month. According to the Food Research and Action Center, about one in 12 households in New Jersey experienced food insecurity in 2020. Essex County is among the top 10 counties in New Jersey for food-insecure homes. Although Nutley residents have better access to food stores than other communities in the area, Nutley has a higher percentage of seniors living in poverty.
These figures are the main reason why Nutley Family Service Bureau (NFSB) provides emergency food services to more than 150 Nutley families through food distributions at The Pantry as well as home delivery. We will always offer these services to provide access to healthy food to as many people as possible.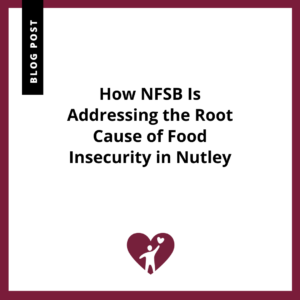 More recently, we've begun to dig deeper into the causes of hunger in our community. Why don't people have enough food to eat? What can we do to identify and address the problem at the source?
Ultimately, our goal is to help clients get to the point at which they can afford to feed their families.
"During Covid, we saw the need to provide more than emergency food," said Katherine Carmichael, Executive Director of NFSB. "That's why we launched our case management program last year. This allows us to work with clients to see if they're eligible for assistance that would help pay for food or reduce other costs so they have more money for food."
Many people don't know if they're eligible for these programs. Some are so confused and overwhelmed by paperwork or frustrated by spending hours on hold that they never complete the application process. We help them get to the finish line.
More than Food
Our case management team will get on the phone with clients and help them fill out applications for food-related benefits such as the Supplemental Nutrition Assistance Program (SNAP). We also explore programs that could help with utility bills, medical bills, housing, and more.
For seniors, we're in the process of developing NFSB's Friendly Neighbor-to-Neighbor Program, which involves matching volunteers with seniors who are homebound. A volunteer will visit the same senior on a regular basis to not only deliver food if needed, but to provide the socialization that's often missing later in life.
"We've found that our food distributions are not only time to pick up groceries but time to socialize as well for many clients, much like the supermarket experience many of us enjoy," Katherine said. "Everyone needs friends. Some people don't have family living locally, so we want to provide a social outlet while making sure they have food to eat."
Food distributions and home visits are also opportunities to find out if clients can benefit from NFSB's mental health services. Seniors in particular are often struggling with anxiety, depression, and stress, especially if they don't have enough to eat. Case management can refer clients for counseling and help them apply for Medicaid, which provides coverage for mental health services.
In addition to food and financial assistance, we may learn that a client is lacking basic living essentials like clothing, housewares, and small furniture. We offer these items from The Shop during food distributions to ensure client needs are being met.
Expanded Food Delivery
The pandemic also brought into focus the need for expanded food delivery. Some people just can't get to The Pantry for food distributions due to mobility issues or work conflicts. During the pandemic, this problem was made worse by stay-at-home orders and fears of exposure to a deadly virus.
We're planning to increase deliveries, using our unmarked vehicles so clients feel comfortable asking for and receiving food.
"With an unmarked vehicle, we can bring people food almost anonymously," Katherine said. "We're essentially putting a mobile pantry in place so clients can receive food without feeling embarrassed. We need to remove the stigma about food assistance. These and other programs exist for a specific purpose and there's nothing wrong with seeking help."
How You Can Help
In addition to the annual Scouting for Food Drive, NFSB relies on smaller food drives throughout the year. If your business or community group is interested in supporting The Pantry, we can help you organize a food drive!
One of the biggest challenges is replenishing fresh food items in The Pantry. We want People who rely on The Pantry for an extended period, such as people on a fixed income and people with disabilities, to have a healthy experience with us.
We've increased the number of healthy options for our clients but need donations to continue meeting demand. One way to help is to participate in NFSB's Adopt-a-Shelf program!
"We have folks donating fresh vegetables from their own gardens," Katherine said. "The Girl Scouts are donating fresh eggs. If we can get more people involved by committing to stocking certain items in The Pantry, we'll be in a better position to offer more healthy choices to our clients."
If you or someone you know is experiencing food insecurity, please visit The Pantry at 169 Chestnut Street in Nutley, Monday-Friday from 9-5, to learn more about our services. Of course, we can always use more volunteers to help with inventory in The Pantry and assist clients. If you'd like to learn more about organizing a food drive or participating in our Adopt-a-Shelf program, we'd love to hear from you! Visit our website or call 973-667-1884 extension 2.