How The Pantry at NFSB Is Planning to Enhance the Customer Experience
Posted on

November 17, 2021

by

admin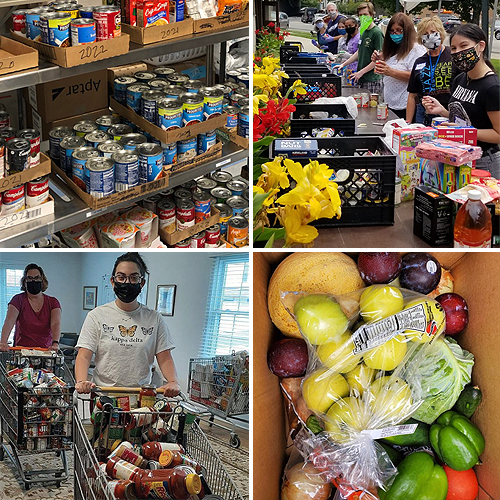 In recent years, food distributions have been held at The Pantry at Nutley Family Service Bureau (NFSB) on Wednesdays from 2 pm to 5 pm and Thursday s from 10 am to 1 pm. Distributions moved outdoors during the pandemic to allow for proper distancing but have returned indoors.
While food distributions continue to be well-received and appreciated by members of the community who utilize The Pantry, we've noticed some trends at The Pantry that have us rethinking our approach to meeting the needs of our clients," said Katherine Carmichael, NFSB Executive Director.
"We have a large number of clients coming at the same time for food distributions," said Peg Conca, Manager of The Pantry and The Shop at NFSB. "If The Pantry opens at 2, they'll start lining up at 12, even if it's raining outside. We explain that we have plenty of food for everyone, but some are still afraid that they won't get enough to eat."
When this happens, clients can be at The Pantry for hours to get food when the process would be much shorter if clients arrived at timed intervals.
NFSB is hoping to overcome these and other challenges by transitioning to an appointment-based system for Food Pantry Pick up. "We are doing this to provide improved customer service for our Pantry clients," said Joan Roake, Pantry Assistant. "An appointment-based system will limit time waiting online, allow a more personalized and dignified experience for the client, and allow a more thoughtful grocery selection that will enable clients to make the best choices for their household."
The Pantry will kick off this new appointment program the first week in December. Every pantry household is currently being provided with an appointment time for the biweekly distributions. The appointments will be based on the client choice and will remain their time until they request another time, or the Pantry reconfigures the schedule. The appointment approach will also give Pantry staff and volunteers more time to spend with each client. This will allow them to better meet the clients individualized needs such as dietary restrictions or preferences, such as vegan choices.
The Pantry will provide food based on what the client can prepare. For example, a family in temporary housing might not have a full set of large and small appliance, so this needs to be considered when choosing food.
This brings us to the second part of the new plan at The Pantry. Step one is to schedule individual appointments. Step two is to give each household the opportunity to shop for food they need and want. The Pantry seeks to eliminate the labor intensive pre-packed grocery bags, that can often lead to waste. "We don't want people to continue to go home with food their family won't eat or can't eat. If they know their needs will be filled, they'll keep coming back," said Peg
Beginning in December, clients will be able to shop for their needs and preferences, just as they would in a grocery store and select groceries based upon the size of their household. Our dedicated Pantry volunteers will continue to play an important role in assisting clients when needed. They will help clients bag the items and help carry the groceries out to their cars "Everyone deserves healthy, nutritious meals and food they enjoy, regardless of their financial situation," Peg said. "We just want our clients to know that we're here for them and we're doing everything we can to make their experience at The Pantry a positive one."
If you would like to learn more about services available at The Pantry and eligibility requirements, call 973-667-1884 extension 2 or visit the NFSB website for more information.