Ida Response Shows How NFSB Steps Up in an Emergency
Posted on

November 11, 2021

by

admin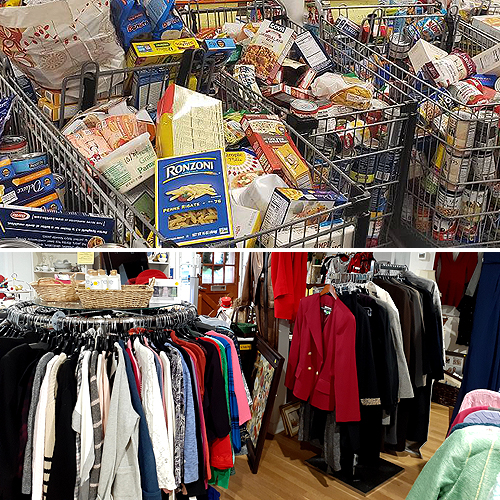 People were up to their waist in water.
Hurricane Ida left its mark all over Nutley. Homes and businesses were flooded. Fallen tree branches covered the ground. Abandoned cars were submerged in water up to the windows.
When the Nutley community faces such a crisis, residents know they can turn to Nutley Family Service Bureau (NFSB) for help. "NFSB has an agreement with the Township of Nutley to provide social service coordination during any emergency or disaster situation affecting the municipality," said Katherine Carmichael, Executive Director of NFSB. "Our staff are available during emergencies to provide food, clothing, social service assistance and counseling services." She added, "We collaborate with the Office of Emergency Management, Nutley Police Department, Fire Department, Health Department and Emergency Medical Services to assist where needed."
"We kicked it into high gear from the first day," said Molly Clark, MSW (Master of Social Work), Case Management Coordinator at NFSB. "We worked with The Pantry and The Shop to make sure people had access to things they may have lost to Ida – clothes, food, cleaning supplies, housewares, and other items. If anyone came in and said they were affected by Ida, they could get the essentials they needed for free."
Finding Assistance After the Storm
Unfortunately, applying for FEMA aid or any assistance through social service programs can be complicated and confusing, especially when you're dealing with the stress of living in a home damaged by flood and wind.
"A vital service NSFB provides is to help 'translate' often contradictory information clients obtain online or by phone with municipal and state agencies. The inability to speak to a person for support often leads to frustration and confusion. In these moments, NFSB can step in with a compassionate, caring response and warm hand-offs for additional services, support, and advocacy," said Katherine.
"We're more than happy to help people apply for assistance and advocate for them," Molly said. "We met with people who were denied when they applied on their own, so we helped them file an appeal. If you use the wrong terminology or don't fill in the right information on the right form, you can miss out on aid that you should be able to receive. It's difficult when you're just trying to survive the moment."
Assistance is available from more resources than most people realize. For example, Bob's Discount Furniture Charitable Foundation helps families in times of crisis and the process is very easy. Come to NFSB, complete the assessment, and we'll send a letter with our tax ID number on your behalf. One resident who lost a mattress and couch to Ida received a $500 gift card.
Emotional Support During Difficult Times
A major storm like Ida can be a traumatic experience. Although Nutley was evacuated, many people stayed because they were unable or unwilling to leave and were forced to watch events unfold in real-time.
"People saw their belongings floating in their basements and couldn't do anything about it," Molly said. "Many had to abandon their homes and sought shelter at local schools. They saw damage up and down the streets. It's extremely traumatic to see your world turned upside down."
More than finding financial assistance, NFSB provides emotional support to people who were hit hard by Ida. Listening to their stories, helping them replace what was lost, and providing counseling are critical to navigating such a difficult situation.
"We want the community to know that they can come to us when these things happen," Molly said. "We'll do everything we can to help. Whether that means distributing essentials like clothing and food, finding financial assistance, or providing emotional support, we're here to help when our neighbors need us most."
"Our community was also a great support to NFSB during the Hurricane Ida emergency and has been during other times of need," Katherine said. "Many individuals and groups made generous food and clothing donations to NFSB to help the flood victims. We are truly grateful for the ongoing support of such a caring and generous community."
If you need help in times of crisis, please don't hesitate to contact NFSB. Call us at 976-667-1884 or stop by and we'll connect you with the services you need.