Pandemic Leads to Increase in Suicidal Thoughts Among Teens
Posted on

November 9, 2021

by

admin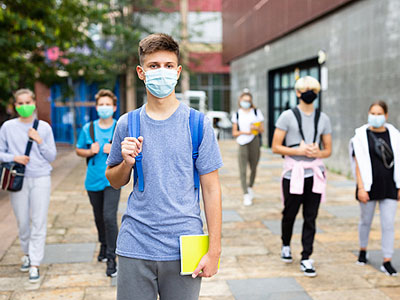 According to CDC research, emergency room visits for suspected suicide attempts by girls ages 12-17 increased 26 percent during summer 2020 and 50 percent during winter 2021 from the same periods in 2019. Researchers point out that "disturbances in our social rhythms significantly increase the risk – even predict – the development of major depressive episodes."
Teen boys have been struggling with mental health as well. Generally, boys are diagnosed with different types of mental health issues and behaviors, such as aggression in conduct disorders and ADHD. While girls are more likely to be diagnosed with depression and are more expressive of suicidal ideation, boys are more likely to act out and engage in risky behavior.
Few would dispute that the cumulative effect of COVID-19 has affected the mental health of society as a whole, but especially teens. In many cases, teens have had thoughts about suicide.
"There are biological reasons why teens are impulsive," said Staela Keegan, MSW (Master of Social Work), LCSW (Licensed Clinical Social Worker), LCADC (Licensed Clinical Alcohol and Drug Counselor), and Clinical Director at Nutley Family Service Bureau (NFSB). "The human brain isn't fully developed until a person reaches their early- to mid-20s. Feelings of hopelessness and helplessness caused by isolation and long breaks from school were common for teens during the pandemic. This isolation and their impulsivity, lead teens to have difficulty thinking things through. Instead of focusing on a solution to the problem teens impulsively think they don't want to live anymore."
There's no getting around the fact that lockdowns and school shutdowns took a toll on the mental health of teens. Now we're starting to see teen girls who are experiencing post-pandemic trauma. They're starting to understand what a dark time in their lives this has been and reflecting on the isolation and fear they experienced. These feelings can be traumatic and, in some cases, lead to suicidal ideation.
How We Approach Suicidal Ideation Among Teens
Fortunately, we haven't seen any suicide attempts at NFSB. However, we've seen teens who had to be sent for an evaluation or a short stay at a hospital because they were having suicidal ideations. All NFSB clinicians are trained in the Columbia-Suicide Severity Rating Scale, which is used to determine if a client is in danger or expressing more passive suicidal ideation. Based on the client's answers to a series of questions, the clinician immediately develops a safety plan.
"Passive suicidal ideation is like a fleeting thought," Staela said. "Most of us at some point in our lives have said 'I wish I could disappear' or 'I hope I don't wake up tomorrow.' Active ideation means the person is thinking about suicide, has intent to carry it out, and is thinking about developing a plan. In this case, we immediately step in and refer the client for further evaluation."
What You Can Do if You Know Someone Who Has Suicidal Ideation
Not keeping up with self-care, isolating from friends, a drop in grades, and reckless behavior are common signs of depression that could lead to suicidal ideation. This is more common in teen girls with eating disorders or substance use disorders. Self-harming behaviors, such as cutting, binging, or purging, can be warning signs, but they don't necessarily mean a person is suicidal. For many teen girls, these behaviors can be a form of stress relief.
Whenever any individual references suicide, whether verbally or in writing, they need to be taken seriously. Many parents make the mistake of brushing it off and saying the child is being dramatic or looking for attention.
"My response is that if you believe a teen is looking for attention, they probably need attention," Staela said. "Let's give them positive attention. Instead of dismissing or judging, ask how they feel. Find out what's bothering them."
There are plenty of resources available to help teens who express suicidal ideation. Individual and family therapy at NFSB can be very effective at identifying the source of these feelings and learning coping mechanisms.
In case of an emergency, call 911 or Mobile Crisis Services, which will send a mental health professional to the home. The Mental Health Association of Essex County can be reached for a Mobile Crisis referral at 1-800-440-8074. You can also call the National Suicide Prevention Lifeline at 1-800-273-8255.