Kick Off the Holiday Season with the Winter Wonderland Sale at The Shop!
Posted on

November 4, 2021

by

admin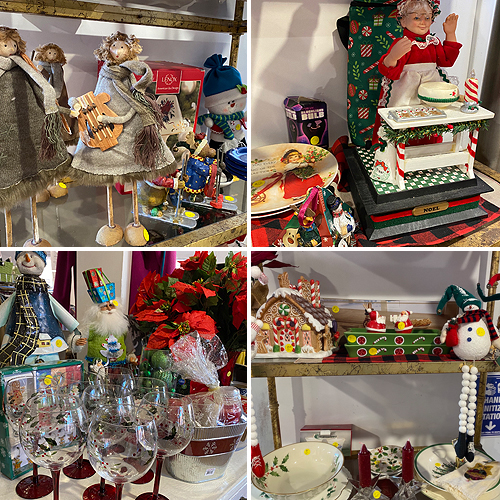 "Gone away is the bluebird… here to stay is the new bird…"
After the adversity we've faced over the past two years, who's ready to start putting it in the past and celebrate the arrival of the holiday season?
At Nutley Family Service Bureau (NFSB), we invite you to face unafraid the plans that we've made – the Winter Wonderland Sale at The Shop! This community event will kick off on Fri., Nov. 26th, 10am -7pm! The sale will continue the following dates: Sat., Dec 4th, 11th, and 18th, from 9am-3pm, and at The Shop, 169 Chestnut Street in Nutley.
We promise to offer a wide range of holiday-themed items from all cultures and religions, but you may just discover hidden treasures and surprises that make the Winter Wonderland Sale truly special.
"We never know what we'll get until we get it," said Denise Roman, a shift leader at The Shop and an NFSB volunteer since 2012. "Right now, we have bins and bins of holiday items, from clothing to antique Christmas ball ornaments to menorahs. A friend of mine recently donated about 30 beautiful pins in all shapes and sizes. The quality of items donated by the people of Nutley and surrounding communities is just incredible."
As you approach The Shop during the Winter Wonderland Sale, you'll see lights and hear music that immediately put you in the holiday spirit. The Shop will be staffed with greeters at the door and associates walking the floor to help you find what you need. Items are typically separated into categories to make shopping easier, although you're likely to stumble upon items that you didn't expect to see. Katherine Carmichael, NFSB Executive Director said "This really must be one of my favorite events. It's always so festive and I go home with unique decorations, knowing I'm supporting our community programs. All the proceeds from our Winter Wonderland Sale go to support our Pantry and Case Management programs at Nutley Family." The Winter Wonderland Sale was the brainchild of NFSB Shop and Pantry Manager Peg Conca and has become a hit with customers. "We are literally overflowing with holiday inventory this year! exclaimed Peg Conca. "The community has been extremely generous with donations. If you can't find what you are looking for in stores this holiday season due to shortages come, see us. For example, we have a great selection of Christmas trees."
"For years, I had been visiting flea markets looking for these plastic, three-foot candles from the 1950s," Denise said. "They're red with a yellow flame on top. But nobody had them. Then I walked into The Shop and a lady donated those exact candles. My holiday miracle happened that day!"
If you like to visit antique shops, flea markets, online auctions, and unique shops on Etsy, you'll love the Winter Wonderland Sale. Expect to see lots of collectibles and antiques, such as winter villages, antique figurines, dishware, and music boxes.
"I consider every item donated and purchased to be a gift because all money will support NFSB programs and services," Denise said. "We look forward to seeing our friends in the community as they give, shop, and enjoy this wonderful event together!"
Join us for the Winter Wonderland Sale, Fri. Nov. 26th from 10am-7pm, Sat., Dec 4th, 11th, and 18th from 9am-3pm at The Shop, 169 Chestnut Street in Nutley. If you have items to donate to The Shop, please stop by or visit the NFSB website for more information.