Community Embraces NFSB Thanksgiving Initiative to Make Holiday Special
Posted on

November 2, 2021

by

admin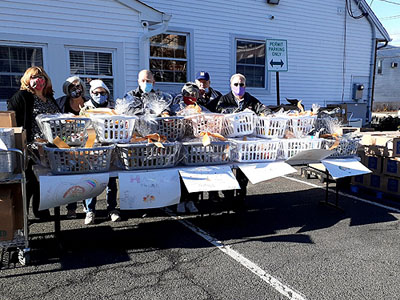 The Pantry at Nutley Family Service Bureau (NFSB) is receiving support from large and small businesses, schools, scouts, and local families to make Thanksgiving extra special for everyone this year.
The NFSB 2021 Thanksgiving Initiative will include a massive Turkey Drive and food basket distribution for clients of The Pantry and local seniors. We're excited about how the community is coming together in the spirit of giving! shared, Katherine Carmichael, Executive Director of NFSB.
Donate Your Free Frozen Turkey from ShopRite
"Every year, ShopRite customers receive a free turkey when they spend a certain amount of money. This year, we're asking residents to consider donating their ShopRite turkey so our Pantry families can enjoy a Thanksgiving dinner" said Peg Conca, NFSB Pantry and Shop Manager.
Here's how it works…
Visit the customer service desk with your ShopRite Price Plus Card and say you want to donate your turkey to NFSB, or tell the cashier at checkout. Free turkey points will be deducted from your account and a turkey from ShopRite will be delivered to The Pantry at NFSB.
If you shop online, all you must do is call customer service at 973-235-1213 and tell them you want to donate your turkey.
We are asking our friends in the community to not drop off turkeys directly to NFSB. We appreciate your generosity, but we have limited space in our freezers!
Thanksgiving Turkey and Food Basket Distributions
In addition to turkeys, all clients of The Pantry will receive a food basket. While most will include traditional Thanksgiving favorites, we recognize that turkey is not for everyone. We'll have chicken and ham options available.
Food baskets and turkeys will be distributed to clients on Monday, November 22 from 1 pm – 4 pm and Tuesday, November 23 from 10 am – 1 pm. We'll also deliver to residents of the two senior centers in Nutley on the Friday before Thanksgiving.
"The response has been overwhelming," said Joan Roake, Pantry Assistant at NFSB. "ShopRite, local businesses, Scouts, school groups, and families are all generously donating their time and resources. The Nutley High School Key Club will help with food distributions, all five Nutley elementary school PTOs are having a pie drive, and the Community Food Bank is donating basket items and 60 turkeys. We expect to have 150-200 turkeys this year!"
Making a Difference
Last year, a young mother who was new to Nutley had registered her family of four for food distributions at The Pantry. She was grateful to leave each bi-weekly food distribution with five bags of groceries. With Thanksgiving approaching, Joan encouraged her to return for a holiday basket. When she arrived at the Thanksgiving distribution, she didn't want to take the basket because she had received so much food the previous week.
"I explained that this was a special holiday basket and she reluctantly accepted," Joan said. "When she came to the next food distribution, she made it a point to find me and thank me again. The appreciation shown by our clients and the difference we're making in their lives at this time of the year make this event so rewarding."
How You Can Help
We're still in need of a few items, including apple juice, stuffing, mashed potatoes, and mushrooms, and monetary gifts are always appreciated. Monetary gifts help the Pantry staff purchase perishable items such as fresh fruits and vegetables, dairy, and proteins to supplement the shelf stable groceries. NFSB takes pride in offering healthy groceries to all our clients.
To learn how you can participate in the ShopRite Turkey Drive, CLICK HERE.
To sign up to donate items needed to fill Thanksgiving food baskets, CLICK HERE.
To make a monetary donation in support of the 2021 Thanksgiving initiative, CLICK HERE.
"The generosity I've witnessed is just awe-inspiring," Joan said. "It really touches my heart. When I see people volunteering their time and giving so much of themselves at such a busy time of year, it makes me proud to be a member of this community and this organization."