NFSB Provides Infertility Counseling
Posted on

October 26, 2021

by

admin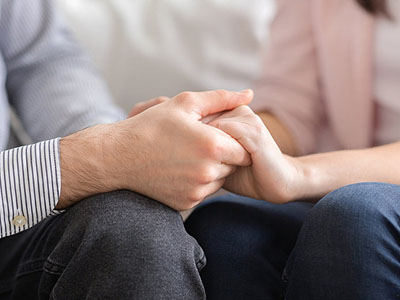 Infertility is a problem for about 10-15 percent of couples of reproductive age. Although there is a higher rate among women in their late 30s and early 40s struggling with infertility, Nutley Family Service Bureau (NFSB) clinicians see younger women in their 20s who are dealing with infertility.
"Many people who are struggling to have children are dealing with mental health issues for the first time," said Kristen Petullo, MSW (Master of Social Work), LCSW (Licensed Clinical Social Worker). "Others have pre-existing or co-existing mental health disorders, which can make the journey more difficult. While some people dealing with infertility are trying to have children for the first time, many already have a child but want to have a larger family. There are so many variables involved."
How Infertility Counseling Can Help
Infertility can lead to stress, depression, anxiety, and feelings of isolation, grief, and loss. Mental health disorders tied to infertility can also contribute to marital problems and sexual dysfunction. Some people feel a sense of shame and wonder if something is wrong with them, as if their inability to have children is a result of their own incompetence or defectiveness.
"Our role as clinicians is to provide emotional support and help clients come to terms with their situation," Kristen said. "Group therapy offers a wonderful avenue of support because clients are surrounded by people who are going through a similar journey. This can help members of the group not only process their thoughts and feelings, but build lifelong friendships."
Therapists can also help alleviate stress and anxiety by answering the client's questions. For example, many clients don't fully understand the physiology behind infertility or their options moving forward. Kristen is a member of the American Society of Reproductive Medicine and continues to take courses to expand her knowledge of both the physical and psychological components of infertility.
NFSB clinicians can provide the information that allows clients to make informed choices. Should they adopt? Should third-party reproduction or assisted reproductive technology such as in vitro fertilization be explored? Should they keep trying to have a child? Will they be content to live without children? Education can build confidence, which in turn reduces stress.
Infertility isn't just a challenge for women. It's a challenge for men. It's a challenge for same-sex couples. Regardless of gender or sexual orientation, people generally don't talk about their struggles with infertility, which can create feelings of isolation.
"I'm very passionate about infertility counseling and excited to have an important role in bringing this type of therapy to NFSB," Kristen said. "I know counseling works, so anyone who is struggling with infertility should get in touch with us. We're here to help."
If you or someone you know has been unable to have a child and is experiencing feelings of stress, anxiety, or isolation, we can provide the emotional support and information to navigate this difficult journey. Call NFSB at 973-667-1884.