NFSB Awards Bedford Scholarship to Siri Bhat
Posted on

August 16, 2023

by

admin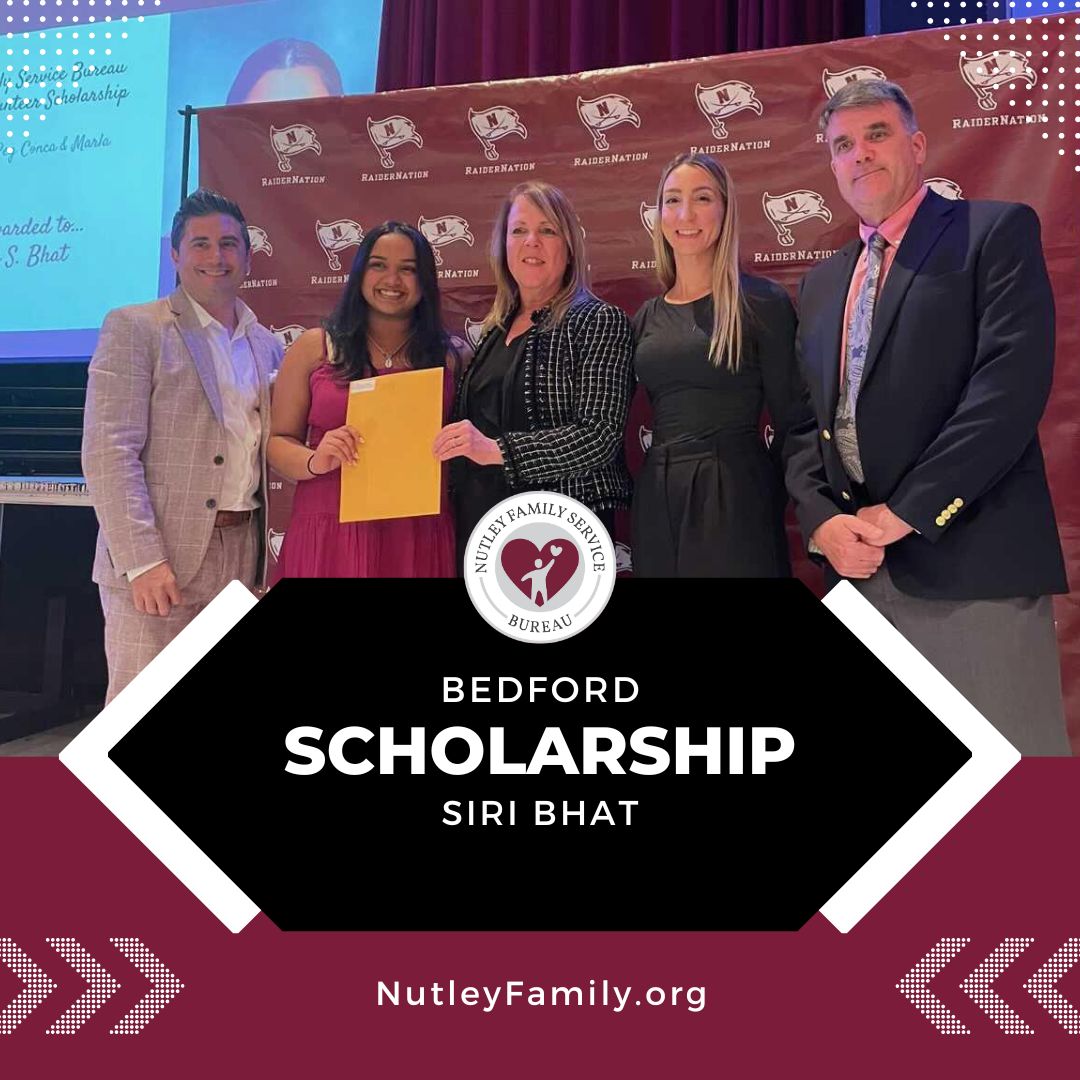 Nutley Family Service Bureau (NFSB) is proud to announce that long-time volunteer and intern Siri Bhat has been awarded the Bedford Scholarship for 2023. The $1,000 scholarship, introduced last year by NFSB, honors the contributions of Ruth Bedford to the Nutley community and NFSB.
Siri started volunteering at NFSB during the summer before her freshman year at Nutley High School, following in the footsteps of her brother, who had volunteered at NFSB for his Eagle Scout Award.
"Volunteering has always been part of my family's culture," Siri said. "I've been a Girl Scout since I was in kindergarten and grew up volunteering. I wanted to give back to the community during summer vacation, so I started volunteering at the Food Pantry before Covid."
Siri and her friend, Marcella Blancato, who was awarded this year's LoCurcio Scholarship, started volunteering together at the Thrift Shop and assisted with the Shop's eBay Store. Siri and Marcella served as Vice President and President, respectively, of Nutley High School's Student Council for four years.
Siri has also earned a reputation as a teen volunteer recruiter for NFSB, recruiting classmates to volunteer for events like the Garden Party and the Scouting for Food Drive and earn their service hours.
Two years ago, Siri approached NFSB Case Management Coordinator Molly Clark with the idea of a project that would involve local youth visiting seniors to spend time together and provide companionship. Initially, this program was Siri's community service project as she pursued her Gold Award for Girl Scouts.
Her idea evolved into NFSB's Neighbor-to-Neighbor Program, which received funding through a $25,000 grant from State Farm Neighborhood Assist. Siri was then hired as an intern to assist with recruiting volunteers, promoting the program, and planning meetings.
"I did a lot of outreach with other high school students, recruiting volunteers again," laughed Siri. "I designed posters, worked on the program manual, and helped coordinate meetings with Molly and Noelle (Walker, NFSB Community Program Coordinator). I have so much respect for seniors and don't want them to feel lonely. This became an even bigger issue since Covid. I'm so glad to see the program grow."
As a student, Siri has been involved with Key Club and United Club, played volleyball, ran spring and winter track, and served as President of National Honor Society. She decided to give up several of her school activities during her senior year so she could focus on her internship at NFSB. The big city is calling for the next phase of Siri's education as she'll be attending Fordham University in New York with a major in marketing.
"This scholarship is obviously helping me pay for college, but NFSB has given me so much more," Siri said. "It's just an amazing place that brightens my day every time I see it. There aren't enough words to thank Katherine (Carmichael, Executive Director), Peg (Conca, Food Pantry and Thrift Shop Manager), Noelle, and Molly for all they've done for me. Whenever someone asks me where they can volunteer or get involved with the community, I always direct them to NFSB."
The Bedford Scholarship, awarded to a graduating Nutley High School senior who has volunteered at NFSB, is named in honor of Ruth Bedford, affectionately known by generations of local residents as the matriarch of Nutley. Ruth served on the NFSB Board of Trustees for decades and would often host fundraisers and board meetings in her home. She was named a Lifetime Trustee in 2013.
"Siri's contributions to NFSB as a volunteer, intern, and ambassador for the organization are extraordinary," Katherine said. "I'm so grateful for her talent, work ethic, and commitment, and I look forward to seeing what she'll accomplish in the years ahead!"