NFSB Expands Home Food Deliveries to Seniors and Homebound Residents
Posted on

November 23, 2021

by

admin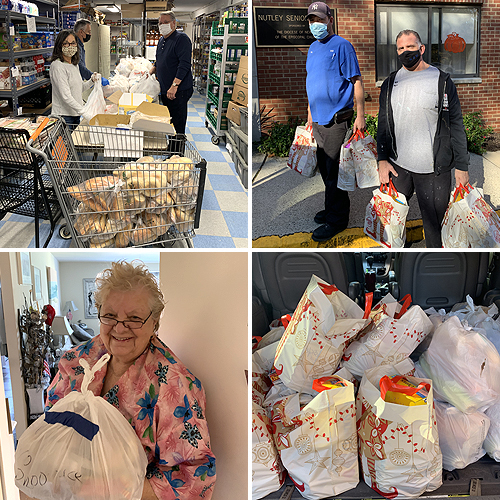 As part of our ongoing fight against food insecurity in our community, The Pantry at Nutley Family Service Bureau (NFSB) holds bi-weekly food distributions on Wednesdays from 2-5 and Thursdays from 10-1. For those residents who are unable to come to us, especially our senior friends, we bring food directly to them through our home grocery delivery program. According to Feeding America, "in 2019, 5.2 million seniors aged 60+ faced hunger. That's 1 in 14 seniors or 7.1% of all seniors. Hunger takes a severe toll on seniors' health and nutrition – putting them at risk for chronic health conditions like depression, asthma, and diabetes." "The NFSB Pantry is on a mission to keep all Nutley residents healthy," said Peg Conca.
During the weeks between our food pantry distribution weeks, staff and volunteers deliver groceries to Nutley senior residents. "In addition to our regular deliveries, the health department would call us during the pandemic and ask us to bring food to a household where people were ill or quarantining," said Joan Roake, Pantry Assistant at NFSB. "We would deliver groceries right to their homes and leave it on their doorstep. At this stage, we're making about 72 home deliveries every two weeks." "We hope to expand our home delivery program in 2022 to reach more seniors and homebound residents," said Katherine Carmichael, NFSB Executive Director.
What Home Food Deliveries Include
Each client receives a bag of dry groceries, which may include pasta and sauce, tuna, canned fruit and vegetables, boxed cereal, oatmeal, soup, and other shelf-stable groceries. We also provide a fresh bag, which typically includes meat, eggs, milk, cheese, and an assortment of fruit and vegetables. Fresh bread donated by local bakeries is included as well when available. We'll even bring pet food for clients whose pets are everything to them.
"Many of the seniors are very excited to see us," Joan said. "They can't wait to go through the bags and see what's there because the items change quite a bit. Some just take the fresh bag for health reasons, and we always try to put low-sodium items aside for seniors. We're often our clients' only source of groceries, so we make sure they have what they need."
Deliveries can also be customized based on dietary needs, food preferences, and available food preparation tools. For example, some clients might only have a hotplate or a microwave to prepare food, so we make sure the items in their bags can be prepared with what they have.
"The Gratitude Is Overwhelming"
When seniors see NFSB at their door with a delivery, the first words out of their mouth are not "hello," but "thank you." Many of our senior clients volunteered at NFSB and share those memories with us. Joan and her delivery team are touched to see kindness and giving come full circle as people who gave to others are now benefiting from NFSB services themselves.
"When I call one particular gentleman to set up his delivery, he recognizes the number and says, 'Hello, it's my favorite person Joan,'" Joan said. "We talk for a little bit, I tell him what food I have that week, and the conversation always ends with him saying, 'Thank you and God bless you.' I speak with him for not even five minutes every two weeks, but I always feel better afterwards. He's such a joy."
If you or someone you know is experiencing food insecurity and unable to come to our food distributions, please contact us right away and ask about home food deliveries. We can take your application over the phone. Call NFSB at 973-667-1884 and press 2 to connect with The Pantry.