The Value of Family Therapy When a Child Comes Out
Posted on

September 8, 2021

by

admin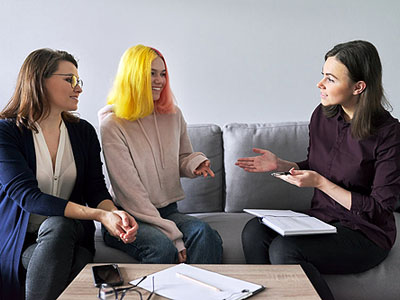 A young girl who we'll call Grace was a familiar face at Nutley Family Service Bureau (NFSB). Grace's family sought counseling for her more than a year earlier when she was having difficulty at school.
Over the course of her counseling, Grace developed such a close therapeutic relationship with her clinician that she shared that she is gay. In fact, Grace told her clinician she was gay before she told any of her friends. She was fearful of coming out, but it was very important to her to feel authentic in her family.
The clinician was known to the family because of their participation in family sessions. After discussion and preparation, and with the support of her clinician, Grace came out to her family.
Grace received very mixed reactions. Her father was very supportive. Her mother, who had been Grace's confidante and best friend, was rattled and hurt by the news. She was very unaccepting because this conflicted with her religious beliefs.
Fortunately, Grace is better able to deal with this rejection because she has the support and encouragement of her clinician. Of course, the process doesn't stop now that she has come out.
The clinician continues to work with the entire family. Sessions could involve everyone, Grace alone, Grace and her mother, or just the mother. The clinician has already set up individual sessions with the mother so she can express her feelings freely.
The goal of therapy with Grace's family is to help them come to a position of acceptance.
"For this clinician, I know it has been a very gratifying experience," said Staela Keegan, MSW (Master of Social Work), LCSW (Licensed Clinical Social Worker), LCADC (Licensed Clinical Alcohol and Drug Counselor), and Clinical Director at NFSB. "The family and especially Grace are very blessed to have such a caring, highly qualified therapist to help them through this process."
A Period of Change and Adjustment
Some families are very nurturing and open to a child who comes out. Others are not due to culture, religion, or their own personal beliefs. Even in very supportive families, however, there's a cognitive shift that takes place.
"Parents or loved ones often go through a grieving process," Staela said. "They feel as if their hopes and dreams for what they imagined their child's life would be are now altered. That doesn't mean they believe the child's life will be awful, but there's an adjustment to be made."
This might sound unaccepting, but the same general principle applies to many scenarios. For example, suppose a child drops out of medical school and won't become a doctor. For many parents, there is grief involved with receiving this news. Families often need help adjusting and managing expectations.
When a child comes out, we encourage family therapy. A person's life unfolds in a real-world environment, not a vacuum. If we see a client who talks about problems in their family, we want to get the family involved in counseling so we have a better chance to identify and address those issues.
"Our clinicians are trained to see how the larger family structure affects an individual's mental health," Staela said. "If we only see the individual, we could make a lot of progress, but if nobody else in the family has changed, the problem probably won't be solved. This is especially important when children come out. We're here for families to help them sort through their thoughts and feelings during such an emotional time."
If you or someone you know is considering coming out to their family and could use the support of a trained professional, call The Center at NFSB at 973-667-1884.