Senior Outreach Program Shows How Youth Volunteers Are Making a Difference
Posted on

September 1, 2021

by

admin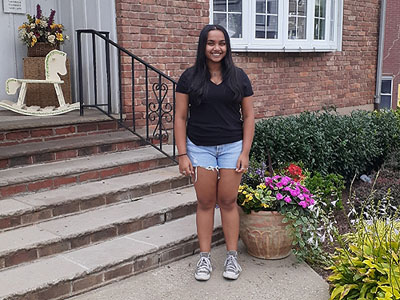 Siri Bhat, a junior at Nutley High School and member of the local Girl Scouts, started volunteering at Nutley Family Service Bureau (NFSB) a couple years ago. Since then, she has been a familiar face at The Shop, The Pantry, and various NFSB events.
When it was time for Siri to pursue her Gold Award for Girl Scouts and develop a community service project, she knew she wanted to help seniors in partnership with NFSB.
"I feel like it's important to build a connection with seniors, especially those who might not have family to visit them and talk to them," Siri said. "I work at the Nutley Bagel Boy and l love talking to the senior customers and hearing their stories."
When Siri spoke with NFSB Case Management Coordinator Molly Clark and expressed an interest in a project that would focus on helping seniors, they came up with the idea to develop a Senior Outreach program.
The Senior Outreach program will involve Siri and other local youth from the community visiting the Nutley Senior Center twice a month to enjoy activities with residents and provide assistance as needed.
"Each visit will have a theme, like game night, bingo night, crafts, or music," Siri said. "We can also go shopping with seniors at The Shop or get a list from a resident, do their shopping, and bring them the items they need."
To qualify for a Gold Award with Girl Scouts, a community service project must be sustainable. For example, if you plant trees, they need to be cared for so they grow and last a long time. Siri expects the Senior Outreach program to be embraced by the community and have a lasting impact.
"I'll be involved for the next two years while I finish high school and plan to help out when I come home from college," Siri said. "I'll continue for as long as I can beyond that, and I know Nutley Family Service Bureau will happily take it from there."
Between scheduled volunteer shifts and special events, about 40-50 youth volunteer at NFSB every month. School clubs, church groups, the Scouts, and other youth organizations also manage their own events and programs to benefit NFSB throughout the year.
"Kids get volunteer hours for school and college, but they're also motivated by the opportunity to make a difference in their own community," said Peg Conca, Manager of The Shop and The Pantry and Volunteer Coordinator at NFSB. "They interact with clients, process items to be sold, learn the inventory system, and help out at events. We want kids to know they can contribute in different ways, and we hope volunteering continues through adulthood."
Siri and her outreach with local seniors are the perfect example of how volunteering can grow into something special. The NFSB family is excited to see the program launch this fall under Siri's leadership.
"Everyone here has been very supportive of this idea," Siri said. "I'm very much a people person, so I feel like helping others is something I'll continue doing for the rest of my life."
If you'd like to learn more about Senior Outreach and other youth volunteering opportunities for individuals and organizations, visit the Volunteers page on the NFSB website or call Peg Conca at 973-667-1884.