In-Person and Remote Counseling Available at Nutley Family Service Bureau
Posted on

August 31, 2021

by

admin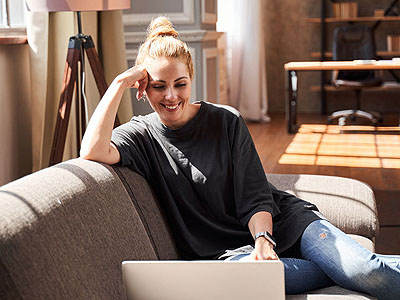 True to our philosophy of responsivity to community needs, Nutley Family Service Bureau adapted across the organization to the many challenges of operating in a time of pandemic. One of the major ways we maintained service delivery was via Telehealth counseling. Teletherapy, also known as online therapy, e-therapy, or video therapy, is delivered via secure virtual platforms. Through this remote environment, traditional clinical techniques are used, similar to in-person sessions. Staela Keegan, MSW, LCSW, LCADC, Clinical Director, comments, "Telehealth has been a game changer for NFSB. We were able to continue services even at the height of pandemic challenges. All our clinicians were able to provide counseling to clients safely from their homes and offer the support that was so necessary, especially in the early days of lock down."
Ever mindful of providing effective services, in April of this year, NFSB surveyed current clients to assess tele-therapy satisfaction and comfort level with returning to in-person therapy. Roughly 72 percent of respondents expressed satisfaction with teletherapy. Sixty-eight percent reported being comfortable returning to in office treatment with all current Covid-safety protocols in place; of those more than 60 percent would feel comfortable returning in the next one to two months, with an additional 26 percent stating that they would feel comfortable returning within four months. NFSB used this data to inform the process of reopening in-person therapy in the safest way possible for both clients and staff, while taking into account ongoing pandemic related variability.
Beginning October 1st, clients will be able to choose between in-person or telehealth sessions. To that end, NFSB is initiating protocols which follow HIPAA and CDC guidelines. All staff and clients are required to be fully vaccinated and wear masks inside the buildings. Additional measures to ensure the safety of our staff and clients include: routine daily office sanitation, an updated HVAC system which ultraviolet light for increased air purification; portable air purifier availability in common areas; and plexiglass barriers. Katherine Carmichael, Executive Director shared, "We are looking forward to welcoming our clients back to in-person sessions in October. Telehealth is a great addition and here to stay at NFSB as a choice for our clients. However, we realize that many clients prefer the in-person experience all or some of the time. We will be happy to see our clients in the office again after such a challenging year."
The decision over in-person versus remote sessions are varied and personal and often is made after client-clinician consultation. Telehealth pros to consider are related to convenience, accessibility and privacy. There is an increased flexibility surrounding telehealth scheduling that allows the opportunity to fit a therapy session into a busy schedule, without the back-and-forth commute or waiting room time. There is too, the relative ease of initiating and maintaining the process. Participating from the comfort of familiar surrounds may reduce the stress associated with an office session. Finally, any privacy concerns may be ameliorated. As with in-person sessions, Teletherapy provides the security of 100% confidential client-therapist interactions as is prescribed ethically and legally by confidentiality laws.
NFSB is committed to continuity of the highest quality care to those we serve. NFSB currently is accepting new in-person and virtual clients. For further information visit our New Client website page or call (973) 667-1884.