A Night at the Races to Benefit Nutley Family Service Bureau Returns
Posted on

February 8, 2022

by

admin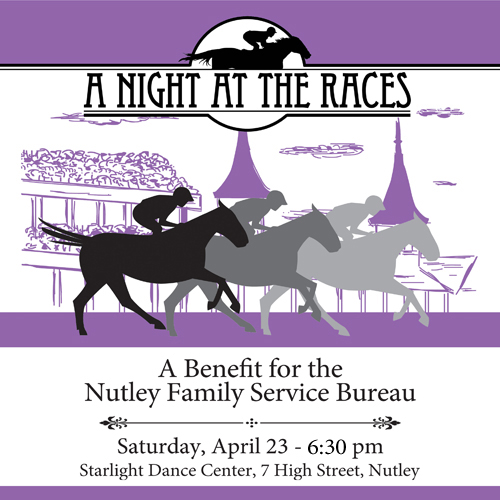 It may seem hard to believe, but the inaugural A Night at the Races fundraiser to benefit Nutley Family Service Bureau (NFSB) was held nearly three years ago. More than 200 people attended on that April night in 2019 and we raised $8,800, far exceeding our expectations.
Ever since then, people have been asking when the next one will be. "After a long hiatus due to the pandemic, we're excited to announce that A Night at the Races is scheduled for April 23, 2022 at Starlight Dance Center, 7 High Street in Nutley! Doors open at 6:30 pm," said Katherine Carmichael, NFSB Executive Director.
What You Can Expect from Night at the Races
In a word… excitement!
A Night at the Races takes you back to an old-time racetrack atmosphere reminiscent of a classic racing event, complete with Kentucky Derby hats and live calls of each race from our own track announcer.
"I called the races at the first event, which was a challenge," laughed Dave Popkin, Vice President of the NFSB Board of Trustees and veteran sportscaster for Seton Hall basketball, Northeast Conference sports, and Buffalo Bisons baseball. "I've called 14 different sports in my career but never horseracing – until A Night at the Races. With people cheering horses as if they were at the track, there was plenty of energy throughout the event. It was a lot of fun for everyone."
Your ticket to A Night at the Races includes dinner, beverages, 10 races, and chances to win tricky tray prizes. At the first event, attendees walked away with jewelry, sports memorabilia, restaurant gift certificates, services from local businesses, and other great prizes.
Attendees who purchase race tickets have the option to either place them in baskets for tricky tray prizes or parlay those tickets into more chances to win. For example, if you "bet" five tickets on a horse at 5-1 odds and win, you'll receive 25 tickets that can be used for tricky tray prizes.
How You Can Help
Sponsorships: NFSB is looking for sponsors of all levels for A Night at the Races, including event sponsors and prize donations. You can even sponsor an individual race and/or a horse! All proceeds benefit NFSB programs.
Volunteers: The success of A Night at the Races depends on the efforts of many volunteers in terms of both planning and creating a memorable experience on the night of the event. NFSB is always looking for volunteers! Katherine said.
Attendees: We've moved to Starlight Dance Center so we can accommodate more guests! The first event attracted a wide variety of attendees, from groups of friends and co-workers to couples and seniors. We encourage everyone to buy a ticket, join the fun, and support NFSB.
"Beyond fundraising, NFSB is working hard to bring more people under the tent," Dave said. "The organization has flourished since we started holding different types of events each year, like Rock Hunger, the Garden Party, and the Bedford Golf Classic. A Night at the Races is another way to attract more volunteers, educate people about what NFSB does, and share stories of how NFSB is making a difference in people's lives."
For More Information…
If you'd like to learn more about sponsorship and volunteer opportunities, contact Emilie Pulecio at epulecio@nutleyfamily.org. To purchase tickets for A Night at the Races, visit the A Night At The Races page on the NFSB website.
We'll see you at A Night at the Races on April 23, 2022 at Starlight Dance Center!