Calling All Volunteers for Scouting for Food Drive 2022!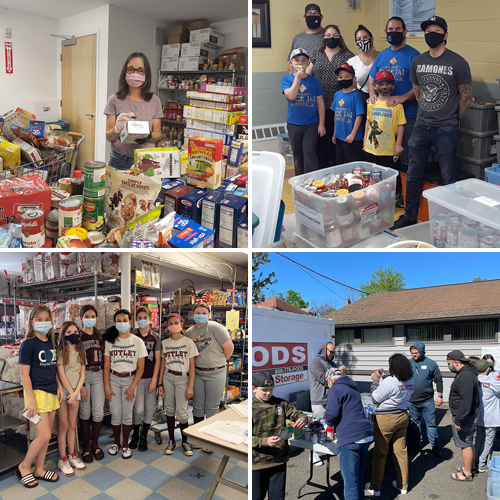 Last year, the Scouting for Food Drive was another record-breaker as Nutley Family Service Bureau (NFSB) accepted more than 44,000 food items, thanks to local Scouts, parents, troop leaders, volunteers, and generous residents of Nutley. This year, we're shooting even higher!
On Saturday, April 30, 2022 from 9:30-5, Scouts of all ages will be collecting non-perishable, shelf-stable items for The Pantry at NFSB. Peg Conca, NFSB Pantry and Shop Manager emphasized, "Given the enormous volume of food that this event produces each year and the ever-present challenge of food insecurity, we need more volunteer help then ever before!"
"We've seen substantial year-over-year growth with every food drive," said Ken Cibelli, NFSB trustee and a volunteer since 2017. "At the same time, the need for food continues to increase in our community, which is why we're committed to keeping pace with a successful food drive."
"We can never have too many volunteers."
Volunteers are needed in several areas:
Counting items. Over the course of the day, Scouts bring carloads of bags filled with food items. They also have a friendly competition to see who brings in the most items. As bags are unloaded onto our tables, we need food counters to record how much food was collected and by whom.
Sorting and labeling. Food is organized into about 15 different categories and labeled. We also sort food by expiration date to make sure items are distributed before they expire.
Hauling and storing. We can always use more muscle and trucks to bring food items to the appropriate storage facilities in Nutley after counting and sorting are complete.
Of course, Scouting for Food isn't just about the numbers. It's about increasing awareness of the resources available at NFSB.
"We get several new referrals each week for people who have food insecurity," Ken said. "Ideally, it would be easy to get food to everyone who needs it, but that's not the world we live in. We're using everything at our disposal to find these folks, get them help, and preserve their dignity, whether they need food assistance, clothing, or counseling."
Calling All Volunteers!
Scouting for Food 2022 is just weeks away. Could we collect 50,000 items? It's not out of the question. But we'll need more volunteers to process that kind of volume.
"It's a little hard to comprehend how much work needs to be done when you're talking about tens of thousands of items," Ken said. "The most unifying part of the experience is stepping back and looking at a photo of 50-60 people – Scouts, volunteers, families, staff – standing together in the shadow of mountains of food, all smiling because they understand what has been accomplished. It's very humbling."
As exhausted as Ken expects to be at the end of the day, he knows from experience that there's no better feeling than making a difference.
"Being a part of this event is absolutely exhilarating," Ken said. "It's so uplifting to see what this community is capable of achieving. Nutley becomes one gigantic ship with all oars pulling in the same direction. There's no better way to appreciate how strong and giving this community is."
This year's Scouting for Food Drive will be held Saturday, April 30 from 9:30-5. To learn more about the event and get involved, visit the Scouting for Food page on the NFSB website and download our flyer!