Volunteers Needed for A Night at the Races, Set to Return in April!
Posted on

March 15, 2022

by

admin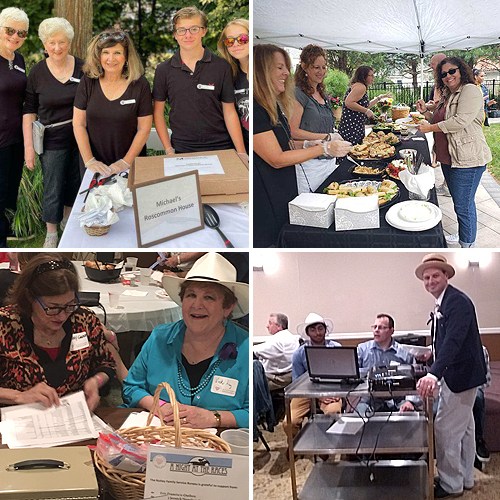 Denise Roman's first major event as a volunteer for Nutley Family Service Bureau (NFSB) was A Night at the Races in 2019. To say she was blown away would be an understatement.
"There was so much energy in the room," Denise said. "Dave (Popkin, NFSB trustee and professional sportscaster, currently serving as a radio announcer for Seton Hall basketball and on various TV networks) was magnificent as the announcer. Then you hear the bugle play, the racing starts, and people jump out of their seats to cheer for their horse. It was the most fun event I've ever worked!"
After a two-year hiatus, A Night at the Races is back, much to the delight of the Nutley community. A Night at the Races, a benefit for NFSB, will be held at the Starlight Dance Center, 7 High Street in Nutley, on Saturday, April 23, 2022, at 6:30 pm.
"There's excitement all over town," Denise said. "Posters and banners are up, and everyone is asking who's going. We had a volunteer sign-up table at the St. Patrick's Day parade, and I never saw so many people out smiling, laughing, and having a good time. People want to get back out and they can't wait for A Night at the Races."
Volunteers Needed!
Planning for A Night at the Races has been going on for several months and more than half the volunteers needed have confirmed and joined the planning. However, there is still a need for more volunteer help. Because there are so many moving parts for this event, the target number for volunteers is 35.
Responsibilities that require volunteers include but are not limited to:
Greeting guests
Staffing the betting windows
Selling tickets between races
Setup and breakdown
"We'd like to have volunteers in place as far in advance as possible so we can finalize our plan and make sure we have enough people to make everyone who attends feel like family," Denise said. "It's very fast-paced once the racing starts as we sell tickets between races throughout the evening, so we need a lot of people to keep up."
Creating an Old-Time Racetrack Atmosphere
With a full slate of 10 races, cheering fans, and a live announcer, A Night at the Races feels like exactly that. Guests will enjoy a Kentucky Derby-style buffet dinner catered by Pag's Restaurant of Nutley, and you can expect fans to be decked out in glamorous hats and outfits of a Triple Crown race or the more casual afternoon at the track attire.
"We have the kind of hats you would see at the Kentucky Derby on sale at The Shop," Denise said. "I guess you could call them the unofficial hats of A Night at the Races. A lot of people dress for the racetrack, which makes the event even more fun."
The inaugural event in 2019 attracted more than 150 guests and raised $8,800. Given the level of anticipation and excitement about A Night at the Races 2022, we hope to surpass those numbers.
Katherine Carmichael, NFSB Executive Director shared,
There are plenty of sponsorship opportunities for A Night at the Races, starting at just $25 to name a horse! We'd like to thank our sponsors who have already stepped up for this event:
American Made Customer Cabinets Co.
Core Physical Therapy & Sport Performance
Hilltop Management
Michael Evangelista
"We always make it a priority to let our volunteers, guests, donors, and sponsors know how much they're appreciated for their gracious support," Denise said. "Without them, events, and programs like this wouldn't be possible. I can't wait to welcome new people to the NFSB family during this wonderful event."
For information about A Night at the Races, tickets, and sponsorships, check out the event page for A Night at the Races on the NFSB website. We're already counting down to post time, so get your tickets soon!