The Shop at NFSB Invites You to a New Higher End "Boutique" to Support our Services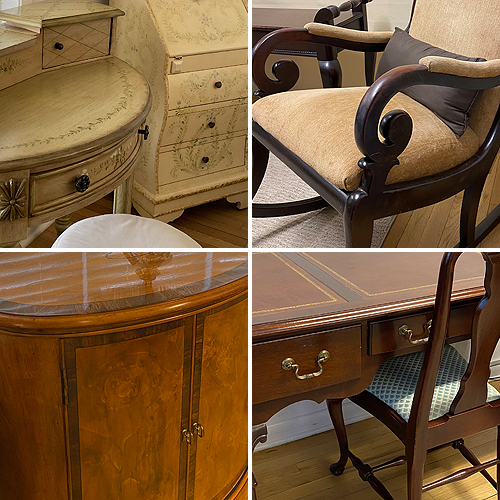 Recent visitors to The Shop at Nutley Family Service Bureau (NFSB) may have noticed the addition of a new room filled with even more "great finds"! These are the enthusiastic words often heard when speaking with Peg Conca, Manager of the NFSB Pantry and Shop. Peg is the passionate force behind several Shop initiatives at NFSB beginning with the Winter Wonderland Sale in the fall of 2020, outdoor bag sales in the Spring and Fall, and the new "boutique" space this winter.
"We installed a new door that connects The Shop to the conference room," Peg said. "This allowed us to create a special place to display higher-end merchandise from well-known brands at an affordable price."
Peg is an equally strong advocate for The Pantry as well as NFSB's Mental Health Counseling and Case Management Programs, all of which are supported by proceeds from The Shop. "Our successful Shop and loyal patrons have supported the growth of our Pantry and helped us meet the increased need for food by Nutley residents. NFSB is giving out over 1000 bags of groceries a month to clients in the community, and I see this growing if prices continue to increase. NFSB is fortunate to have The Shop." said Katherine Carmichael, NFSB Executive Director.
What You Can Expect
The best part of The Shop is that you never know what you'll find. There's always an eclectic mix of merchandise that changes week to week, sometimes day to day. This applies to our new shopping space for higher-end merchandise as well.
As of this writing, items for sale include:
Handbags by Coach, Kate Spade, Brighton, and Michael Kors to name a few
Wedding, prom, communion, and evening dresses
Women's and Men's shoes
Small furniture
This is a great time to shop for your special occasion clothing. Again, what you see today might not be here tomorrow. We encourage you to come back often to see the higher-end merchandise available.
Keep in mind that this new space is being used on an as-needed basis and may be temporarily closed from time to time if NFSB staff needs to hold meetings. However, you will always have access to the main sales floor at The Shop. You can also shop online 24/7 by visiting our Ebay store!
Current hours of operation for The Shop are:
Monday, Tuesday, Wednesday, and Friday: 10 am – 7 pm
Thursday: 10 am – 4 pm
Saturday: 9 am – 3 pm
Please visit The Shop at NFSB, 169 Chestnut Street in Nutley, for a selection of affordable merchandise you will not find anywhere else!
Donating your Treasures to Support NFSB
The Shop is now accepting higher end donations to feature in our special "boutique". If you have small furniture, antiques, listed works of art, jewelry, china, silver and other collectibles you would like to donate and help support the programs and services of NFSB, please contact us today at 973 667-1884 x131.