Gaining Peace of Mind by Ensuring Pets Are Fed: An NFSB Success Story
Posted on

December 28, 2022

by

admin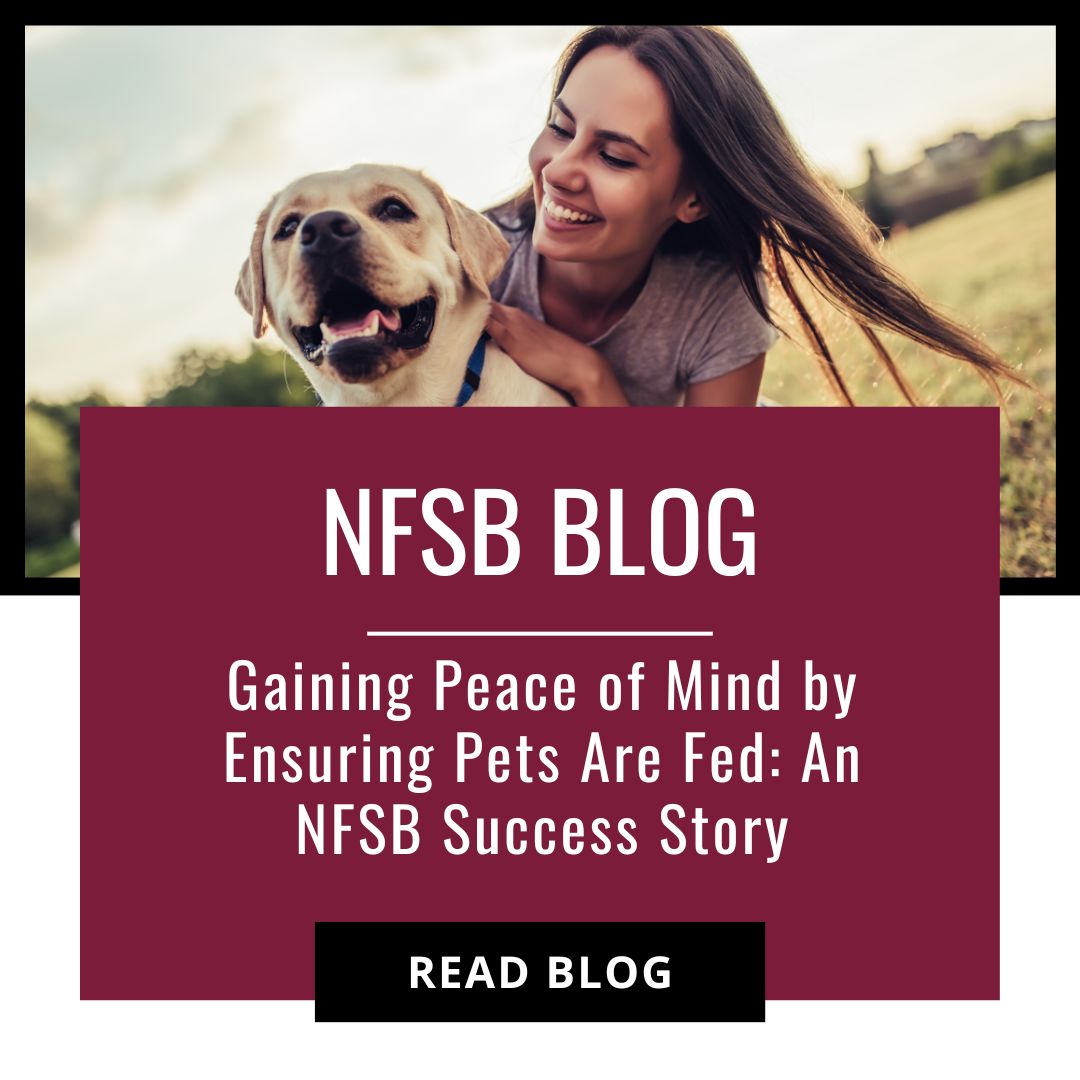 One of the reasons why the Fur Pet's Sake Pet Pantry exists at the Nutley Family Service Bureau (NFSB) Food Pantry is that people are often more concerned about feeding their pets than themselves. Pets are sometimes the glue that holds a family together. For many individuals, pets are their primary motivation for getting up in the morning.
For "Sadie," a client of the Food Pantry, her two small dogs bring her the greatest joy in a rather difficult life. After a particularly tumultuous series of events, and bedridden with the flu, she had food remaining from her last Food Pantry distribution but had run out of pet food.
Sadie was distraught and reached out to the Food Pantry for assistance. A volunteer soon arrived at Sadie's apartment with pet food, along with chicken noodle soup, crackers, a box of tissues, and a "get well" card. Relieved that her dogs were fed, Sadie was able to relax, rest, and recover from her illness.
As soon as Sadie felt better, she contacted the Food Pantry to express her gratitude to NFSB and the volunteer who delivered her food. She was so thankful that her pets were fed but not surprised by the volunteer's kindness.
Sadie pointed out that Food Pantry volunteers are always kind and respectful and go above and beyond to make sure clients have everything they need. Of course, our volunteers find as much joy and fulfillment from helping neighbors in need as Sadie finds from seeing her dogs happy and fed.
Today, Sadie is still a client and has been referred to case management for help in other areas of her life. Sadie doesn't have transportation, so Food Pantry volunteers often deliver food to her home. When Sadie is asked what types of food she would like, she doesn't ask for much and the dogs always come first.
Thanks to the success of the Fur Pet's Sake Pet Pantry and the generosity of the Nutley community, we're always able to provide Sadie with enough pet food to give her peace of mind. When delivering food, our volunteers always look for different ways to help.
For now, Sadie's most basic needs, and the needs of her pets, are being met, and she could not be more grateful.
Life is harder when you're hungry. If you or someone you know is struggling to put food on the table or experiencing a food emergency, NFSB is here for you. Call 973-664-1884 extension 2 to learn more about our Food Pantry services. We respect your privacy and all conversations and services will be kept confidential.