Meet the Counselors: Andrew Cao, MSW, LSW
Posted on

March 8, 2023

by

admin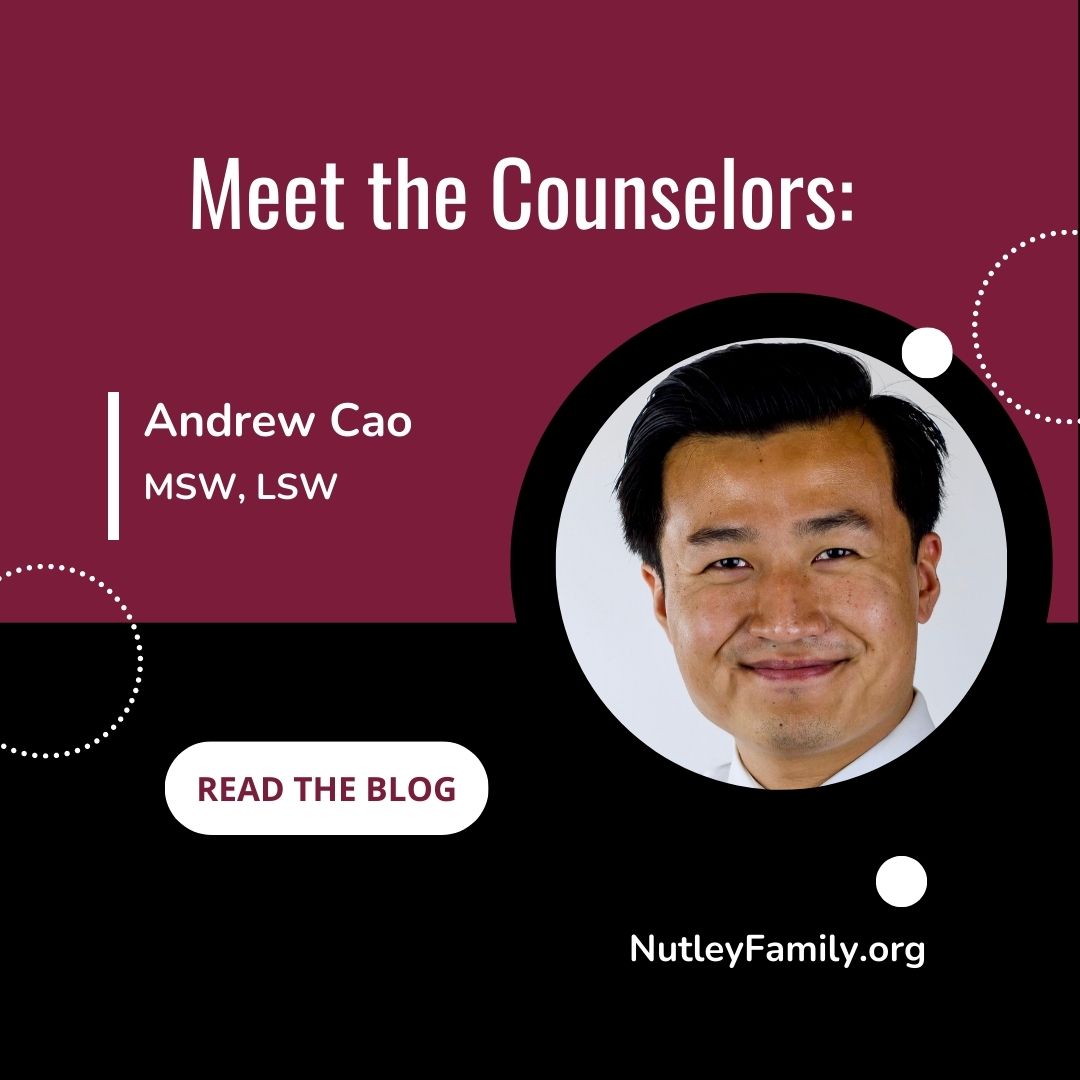 As a college student, it didn't take long for Andrew Cao to figure out a career in the medical field was not in the cards.
"I cannot stand the sight of blood, so medical school was out," Andrew recalls with a laugh. "I had received therapy and various social services in my life and found them very helpful. Those experiences helped shape me into the person I am today. After reflecting on those experiences, I was excited and grateful when I realized that I could make this a professional career."
While attending Rutgers University, Andrew chose classes specific to becoming a psychotherapist, focusing on mental and behavioral health. He earned a bachelor's degree in social work with a minor in psychology as well as a Master of Social Work (MSW) from the Rutgers School of Social Work. Andrew is currently a licensed social worker (LSW).
Prior to joining Nutley Family Service Bureau (NFSB), Andrew's work focused almost exclusively on substance use disorder treatment and addiction recovery.
"I treated adult males in what is commonly referenced has a halfway house," Andrew said. "Most of the adults were facing criminal justice issues and needed housing and food."
As counselor for the Opioid Affected Youth Initiative with Prevention Links, Andrew treated adolescent individuals and groups who were in recovery, as well as their families. Many of these teens had struggled with their own substance use and co-occurring mental health disorders, were at risk for substance use disorders, or had a family history of substance use.
Andrew also served as program coordinator for the New Jersey Coalition for Addiction Recovery Support, organizing and implementing a wide range of activities and programs to guide people in various stages of recovery. This included an eight-week diversity, equity, and inclusion (DEI) workshop that focused on the foundations of racial healing.
Andrew has always wanted to work with people from a wide range of cultures and lifestyles. In addition to his clinical background, his journey of self-discovery and introspection, both individually and with support groups, have provided him with life experiences that are valuable in his role as counselor at NFSB.
"My treatment framework has always focused on the relationship between the clinician and client as a vehicle for healing," Andrew said. "Long after treatment has ended, I love hearing from clients and seeing the positive changes in their lives."
Andrew is excited to be part of an organization with such a proud tradition that can support the community in a variety of ways through mental health counseling, case management, The Food Pantry, The Thrift Shop, and other services.
"NFSB has such a deep history and solid standing in the community," Andrew said. "Everyone here has been so helpful and kind, which reflects the services clients receive. Rather than pouring from empty glasses, our cups are overflowing here. It's very rewarding to be part of that kind of culture."