Meet the Counselors: Chaya Kohn, MSW, LSW
Posted on

March 14, 2023

by

admin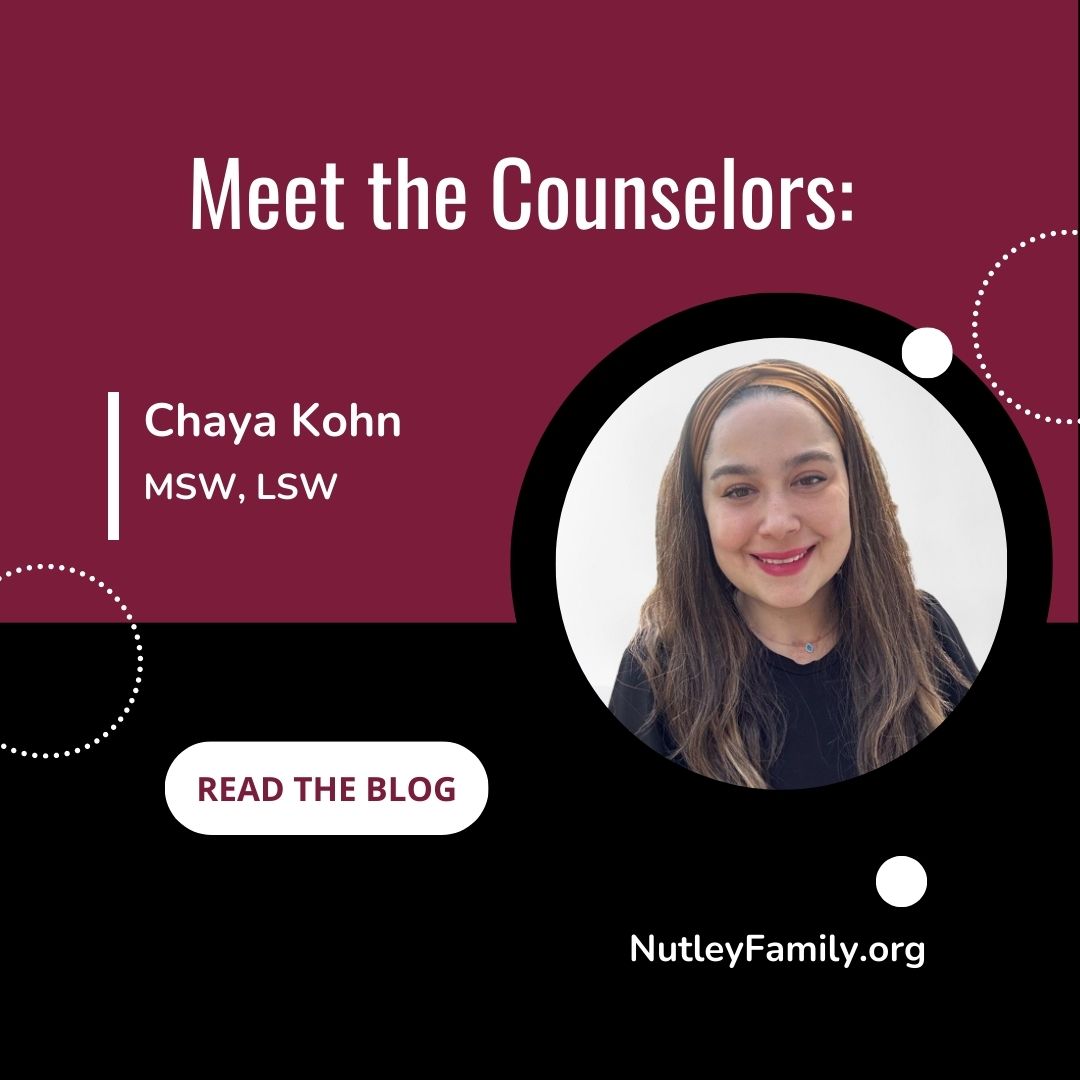 Chaya Kohn has always been the person who people approached to "talk about things."
"Since I was younger, people just chose me as that comforting person who they could share their feelings with," Chaya said. "I've actually met people who have spoken to me and asked, 'Are you, like, a therapist or social worker?' It just seemed like a natural fit for my personality and I've always been passionate about helping people."
Chaya earned a bachelor's degree in psychology from Brooklyn College and her Master of Social Work (MSW) from Yeshiva University. She is currently a Licensed Social Worker (LSW). Prior to joining the team of counselors at Nutley Family Service Bureau (NFSB), Chaya interned as a crisis counselor.
"As an intern, I would go into people's homes and treat the whole family," Chaya said. "Even if the client is a 9-year-old boy, you talk to the parents and siblings. If the client is an older adult, you work with the spouse. This gave me experience working with different age groups and challenges."
Many of these families were facing financial hardship. Because this was a free service, people who couldn't afford therapy were able to get the help they needed. In addition to counseling, clients were connected with resources and various forms of assistance, from social services to meals to tutoring.
"In some cases, children were having behavioral issues and feeling left out because their parents were so busy working," Chaya said. "One client was an elderly woman with agoraphobia who was afraid to leave her home, even for therapy. Having someone see them in their homes where they felt safe was very important."
Chaya also interned as a dayhab (day habilitation) counselor for women with intellectual disabilities such as Down syndrome and autism, helping clients with day-to-day activities, education, and on-one-one counseling.
"Many of these women were unable to verbally express themselves, but their faces would light up when I came into work," Chaya said. "I could see how much they valued my time with them. One woman didn't know her numbers, and learning something that the average person might take for granted meant so much to her. It was a very rewarding experience."
Chaya is excited to apply what she has learned in school, in life, and through her own counseling experience to her work at NFSB. She also appreciates the wide range of in-house services that are directly tied to the challenges that many people with mental health disorders are facing.
"I love that there's a Food Pantry here so clients can just walk next door instead of making a separate appointment and planning a trip to another facility," Chaya said. "When I needed to refer a client to a psychiatrist, case management was able to provide a referral on the spot. These resources go a long way to reducing client stress and filling basic needs in their lives."
Beyond NFSB services and programs, Chaya loves the friendly, client-centered approach to supporting individuals and families.
"There's just a great vibe here," Chaya said. "Everyone is on the same page, with the same goals and mission. This makes every process more seamless and creates a friendly environment where everyone feels welcome. Everything is for the clients, as it should be. I'm really grateful to be here."