Meet the Counselors: Guadalupe Rangel, MA, LAC, NCC
Posted on

March 1, 2023

by

admin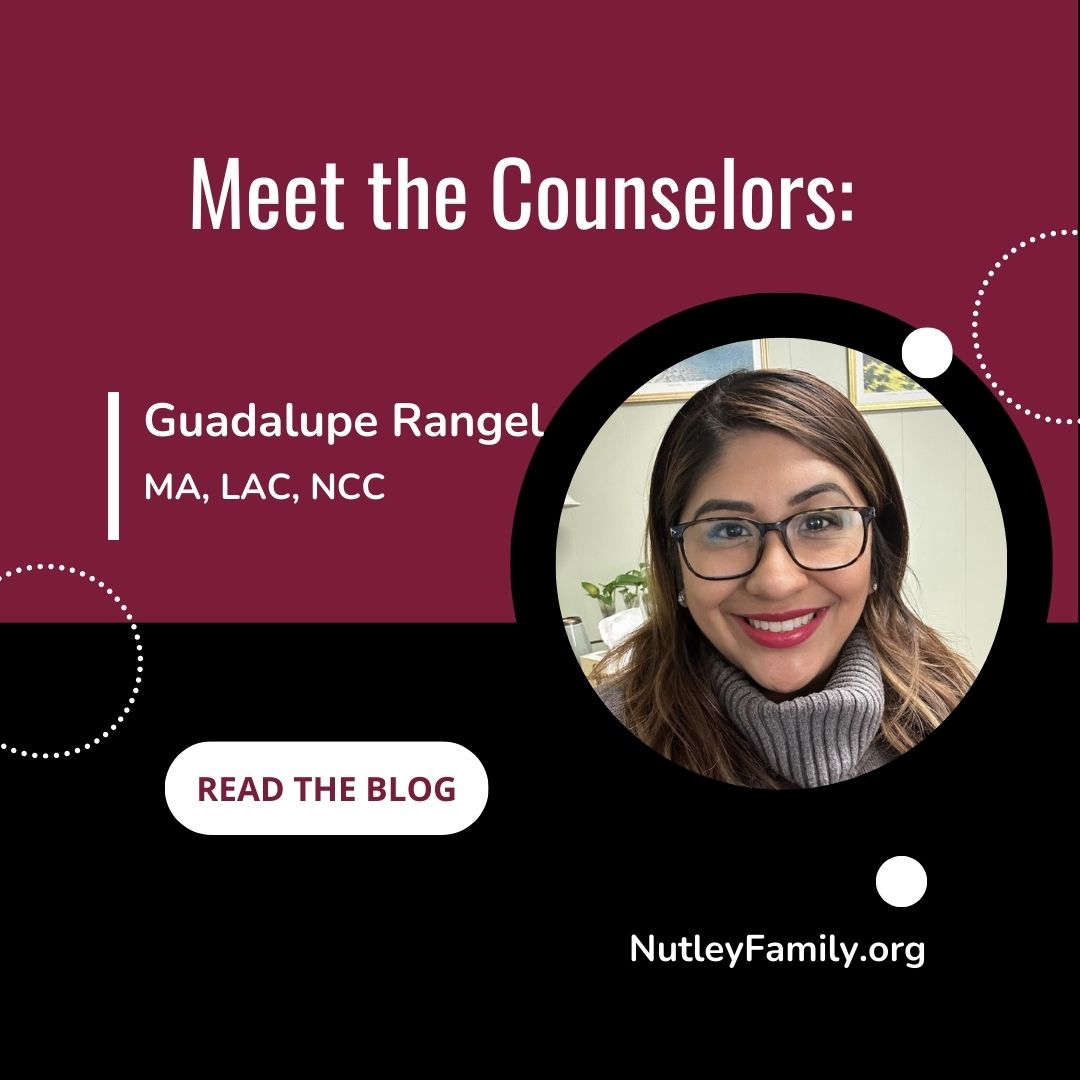 "Mental health chose me," reflects Guadalupe Rangel, a counselor at Nutley Family Service Bureau (NFSB). "It took me a long time as a teen and young adult to realize I could attend college and pay my way through school. My first psychology class helped me understand so much about who I am and why I am the way I am."
When a professor who Guadalupe truly respected suggested that she pursue mental health counseling, it made so much sense.
"I wanted to be able to give back to my community and support the people coming up behind me," Guadalupe said. "I didn't have that kind of support, and I realized I wanted to help people become better versions of themselves."
Guadalupe graduated from New Jersey City University with a Bachelor of Arts in psychology and Master of Arts (MA) in mental health counseling. She is currently a Licensed Associate Counselor (LAC), National Certified Counselor (NCC), and a candidate to become a licensed clinical alcohol and drug counselor (LCADC).
"I obtained the required hours for the LCADC test during the pandemic because there was a huge need for Spanish-speaking clinicians who understood substance abuse," Guadalupe said. "It was challenging because everything was virtual, but it was also rewarding because I was able to help people in very difficult circumstances."
Guadalupe has counseled many individuals and families dealing with trauma, especially domestic violence cases referred by the Division of Child Protection and Permanency, formerly the Division of Youth and Family Services (DYFS).
"I led a therapy group for women who had been victims of domestic violence," Guadalupe said. "Some were undocumented, didn't speak English, and had PTSD. They had been conditioned to believe what was happening to them was okay. Some were afraid of being thrown out of their homes, losing custody of their children, and being arrested. They really needed help."
Guadalupe's work with this women's group involved cognitive behavioral therapy, breathing exercises, and psychoeducation, empowering clients to understand their own self-worth and leave unhealthy relationships.
Guadalupe also worked with children who had been exposed to both emotional neglect and physical violence. She treated teenagers who were struggling with self-esteem and experiencing anxiety and depression about where their lives were headed.
For example, many teens she counseled felt pressure from parents' expectations to go to college when that's not what they wanted to do. This experience made Guadalupe realize how much she enjoyed working with teens and the impact she could have on their lives.
Today, Guadalupe is excited to be part of such a community-focused team at NFSB, where clients can receive help in many different areas of their lives. In addition to counseling, Guadalupe is an adjunct professor at Essex County college, teaching two psychology courses.
"I love interacting with both clients and students," Guadalupe said. "It makes my heart complete and helps me understand everything I've been through in life. I'm so excited and proud to work at NFSB and support individuals, families, and this community."